A concerned netizen is pleading for the speedy repatriation of her fiance on Facebook.
Posted on the Facebook page Pilipino sa Kuwait, her fiance's name is Jeffrey Amarento Cabayao. Photos on the page show the bruises Cabayao received after being physically abused by his employer, a prince in Jeddah. According to the netizen, Cabayao followed his employer from Riyadh to Jeddah on vacation.
The netizen was in contact with Cabayao on the day he was abused, but his phone was confiscated. She was only able to contact him the next day, through the cell phone of one of the Filipino drivers.
It turns out that Cabayao is in the hospital because of his injuries. What's worse is that he was taken to the police station and charged with witchcraft and black magic, a major offense in the country.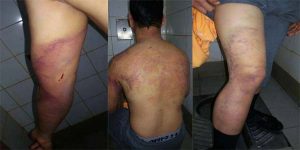 The netizen went to the Philippine Embassy in Riyadh to report the incident, which was forwarded to the Jeddah Consulate. Meanwhile, Cabayao remained in the police station despite his injuries, where he was maltreated by officials. He decided not to pursue counter charges against his employer and instead plead for repatriation.