An overseas Filipino worker (OFW) has exposed a modus operandi of a ticketing office and an alleged airport office in the Terminal 1 area of the Ninoy Aquino International Airport (NAIA).
Niel Caubat Laude, a rig electrician in Abu Dhabi, posted his experience on Facebook to warn fellow OFWs of the scam.
Laude related that an unidentified airport police named Bert, Bert's driver, and a reservations officer of a ticketing office in Parañaque are involved in the plan.  He posted a business card with the name of the ticketing office as "Airport Travel Express."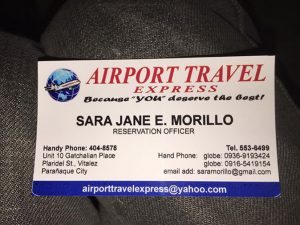 Based on Laude's story, the group victimizes travelers who miss the shuttle buss from Terminal 1 to Terminal 3.  Bert will approach the traveler and instruct the driver to take the target to the next terminal in an alternate route that passes heavy traffic.  Once the traveler misses his domestic flight, Bert will offer them to stay at their ticketing office and tell the victim to purchase a plane ticket there.  The ticketing office has a guest house, though Laude says their ticket is 100% overpriced compared to the airline.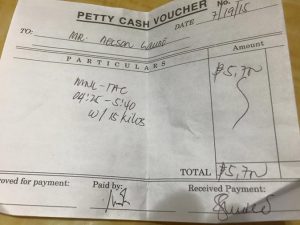 Manila International Airport Authority (MIAA) officials said they had heard of the scheme before, but it was the first time someone has aired their complaints on social media.
MIAA Assistant General Manager for security and emergency services Jesus Gordon Descanzo said they asked Laude last week to identify the member of the Airport Police Department (APD) involved in the scheme.  However, Laude did not show up.  Furthermore, he deleted his Facebook account and changed his cell phone number.
Descanzo assured, however, that they will continue the investigation
Source (s) coolbuster |Inquirer