A Filipino domestic worker jumps to her death in Sha Tin, Hong Kong after her employers fired her after accusing her of theft.
The employers of the 47-year-old helper accused her of stealing money from a handbag of a woman visiting her employers' 19th-floor flat. The woman claimed that she emerged from the bathroom and found the maid going through her purse.
Her employees called the police, who did not see any evidence that the maid had stolen anything. Despite this, the female employer insisted on firing the helper on the spot.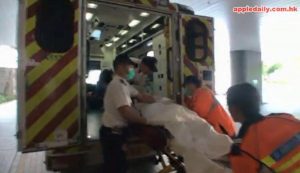 The maid cried as she packed up her things while the police watched helplessly.
Suddenly she pushed open a window and jumped.
She was immediately rushed to the hospital, but she was declare dead on arrival.
Sources Hongkong.coconuts |appledaily.HK