The tanim-bala scheme going on in Ninoy Aquino International Airport (NAIA) has made it in the international spotlight.
The scheme was featured in TIME magazine's Web site, Time is an American weekly news magazine that has an international reach.
The article was written by Mark Rivett-Carnac and titled  Airport Security in the Philippines Have Been Putting Bullets in Luggage to Extort Passengers.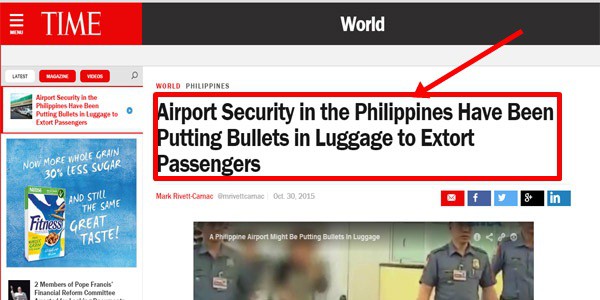 Rivett-Carnac's opening lines in his article were This is becoming an international embarrassment. This was a quote from Sherwin Gatchalian, a representative of the First District of Valenzuela City in the House of Representatives.
He reported the basic premise of the tanim-bala scheme, where NAIA staff allegedly drop bullets inside the bags of unsuspecting passengers. The passengers are then threatened to be charged or arrested for carrying illegal ammunition, sometimes even extorted from.
Filipino legislators have called for an investigation into this so-called scheme.
Rivett-Carnac also quoted Gatchalian saying the offenders are not afraid to prey on foreigners. In fact, NAIA security have arrested a Japanese man for carrying a bullet in his luggage.
It has also been reported that many others have been taken to court for refusing to pay fines.
Surveillance has allegedly been intensified to investigate the incidents.