An Austrian-Filipino woman was apparently bludgeoned to death on a construction site in Hong Kong in the early hours of Tuesday.
The victim was identified  as Andrea Bayr,. Her 27-year old Pakistani boyfriend is named as the main suspect .
According to some source news Andrea boyfriend get angry when she wanted to end their relationship.
Andrea boyfriend attacking the victim with an electric drill at the Hung Cheung Road site in Tuen Mun at about 2.15am when officers arrived in response to a call from the couple's friend.
THE SUSPECT image from mingjingyoubaow.com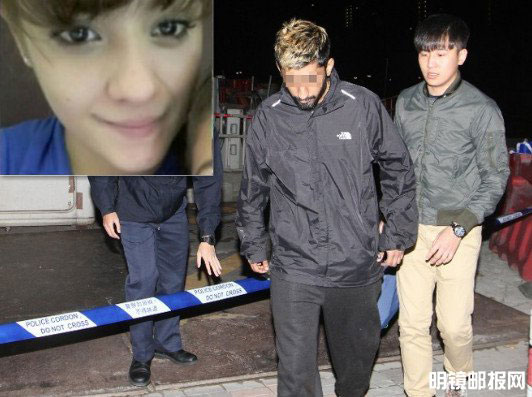 Andrea was brought to hospital where she was certified as dead.
Her boyfriend  also sustained minor leg injuries and had been taken to the same hospital for treatment. He is currently being held at the custodial ward.
Bayr was born in Hong Kong to an Austrian father and Filipino mother. It was reported that she was once arrested on suspicion of possession of illegal drugs in Hong Kong. According to her Facebook profile, Bayr was formerly employed as a receptionist at Tazmania Ballroom in Lan Kwai Fong and worked at Maya Bar in Wan Chai as a barmaid. She was also a model with Film Factory Hong Kong.
Police are treating the case as murder. They have sealed the construction site as part of their investigation.
See clip below
RIP, Flipino Girl #Andrea_Bayer#A_27_Years_Old_Pakistani_Man_Murder_a_25_Years_Old_ #Philipino_Women_12Hours_ago_in_TuenMun Construction-site .. Today #29March2016#Boyfriend_arrested_after_Australian_Filipino_woman_killed_on_Hong_Kong_building_sitePolice say man was attacking victim when they arrived at the sceneAn Australian-Filipino woman was apparently bludgeoned to death on a construction site in Hong Kong in Tuesday's early hours.Andrea Bayer's boyfriend, 27, was arrested on suspicion of killing the 25-year-old with an electric drill.Police said the man, of Pakistani origin, was attacking the victim with an electric drill at the Hung Cheung Road site in Tuen Mun at about 2.15am when officers arrived in response to a call from the couple's friend."Officers subdued the man and arrested him at the scene," said assistant Tuen Mun district commander, Superintendent Chan Chun-chun.The suspect, a night-shift security guard at the site, suffered minor leg injuries and was receiving treatment at Tuen Mun Hospital at Tuesday lunchtime. He was still being held for questioning at the hospital's custodial ward and had not been charged.As police seized a small quantity of suspected crystal meth at the scene, officers were investigating whether the pair were under the influence of illegal drugs at the time of the incident."The couple had a dispute inside the guard post and their Pakistani friend tried to separate them but failed and then made a report of fighting to police," Chan said."As our colleagues arrived at the scene, the suspect was attacking the woman with an electric drill. Officers subdued the man and arrested him."Bayer suffered multiple head injuries and was taken unconscious to Tuen Mun Hospital, where she was declared dead at 3.10am.At the crime scene, officers seized hard objects such as the electric drill and a hammer as evidence.The superintendent said a post-mortem examination and a toxicology report would be carried out to determine the cause of the death.She said police were investigating the motive, adding that officers would look into whether the pair had relationship problems.According to police, the two Pakistani men and the woman all had Hong Kong identity cards.It is understood that Bayer had known her boyfriend for a few months.Police figures show reports of homicide in the city dropped by 18.5 per cent to 22 last year, compared with 27 in 2014Link of SCMP.comhttp://m.scmp.com/news/hong-kong/law-crime/article/1931467/boyfriend-arrested-after-australian-filipino-woman-killed

Posted by News Hong Kong News on Tuesday, March 29, 2016
Source (s) SCMP , EJ Insight,  Facebook