Ninoy Aquino International airport is dubbed as the world airport for consecutive years. So to uplift its status, NAIA launched The Wings Transit Lounge at terminal 3. It is basically a hotel, situated in the airport itself. This place is perfect for travellers and even for well-wishers so they can rest and relax.
The Wings Transit Lounge is packed with explicit amenities including a spacious dining and work areas for individuals travelling by group or with their family and friends. Its dining area can also be converted into work area so people can enjoy their coffee while doing their work. They also have a pantry where you view the coming and going of airplanes in NAIA.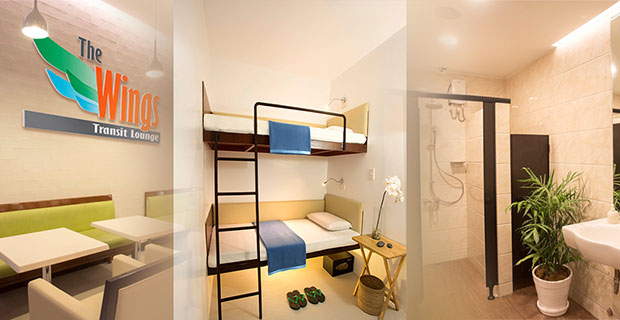 Longing to pamper your body after a hectic travel, Wings Lounge offers you comfortable chairs so you can nap and experience manicure and pedicure at a very affordable price of P300 up to P1000 for Manicure-Pedicure and Foot Scrub Bundle. Body massage can also be acquired for P675/hour.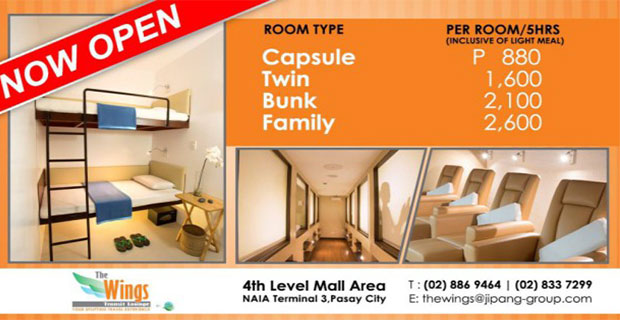 Sleeping areas are the best feature of this hotel.
Family/friends of four – P2,600/room for 5 hours with light meal.
Family/friends of four – P3,200/room for 8 hours with light meal.
Single room (Capsule) – P800 – P1000 with light meal and shower.
Additional Fees:
Shower Facilities – P300
Extension – P530/room
With its very affordable rates and convenient space, individuals can look forward to a much exciting stay in NAIA.
Source : Sleeping Airport