The Land Transportation Office (LTO) asked victims of a taxi scam to come forward and file a case against those involved, in order to help avert similar incidents from happening in the future.
LTO Assistant Secretary Edgar Galvante said they want to get any lead regarding the suspects, so they can be penalized upon investigation. He said the office will do what they can to keep the victims safe.
A victim of a taxi scam posted an account of her encounter with the scammers, but has not yet pursued any action against the suspects for fear that someone might come after her.
According to the victim, the taxi driver drove from the Ninoy Aquino International Airport (NAIA) Terminal 3 to a bus terminal in Cubao and asked them for a fare amounting to P3,600. A barker accompanied the driver, who entered the taxi as soon as they got in.
Janine pretended to go along with them because she did not know what would happen if she fought against them. She just told the driver and the barker she needed to withdraw money from an ATM machine.
She and her brother got off the taxi near policemen. Upon hearing Janine's brother talking to the police, the driver and barker dropped their luggage and fled with the taxi doors hanging open. The police chose not to pursue the taxi since nothing was taken from Janine and her brother.
Others have pitied with the victim on Facebook, sharing they have encountered the same men. One victim, Liza, got the taxi number but wasn't able to get the names of the scammers.
Galvante said those guilty of overcharging can be fined P5,000 on the first offense, P10,000 for a second offense, and P15,000 for a third offense.
The LTO can investigate the case with the Land Transportation Franchising and Regulatory Board (LTFRB). They will also ask airport authorities to watch out for the modus.
Watch the video below :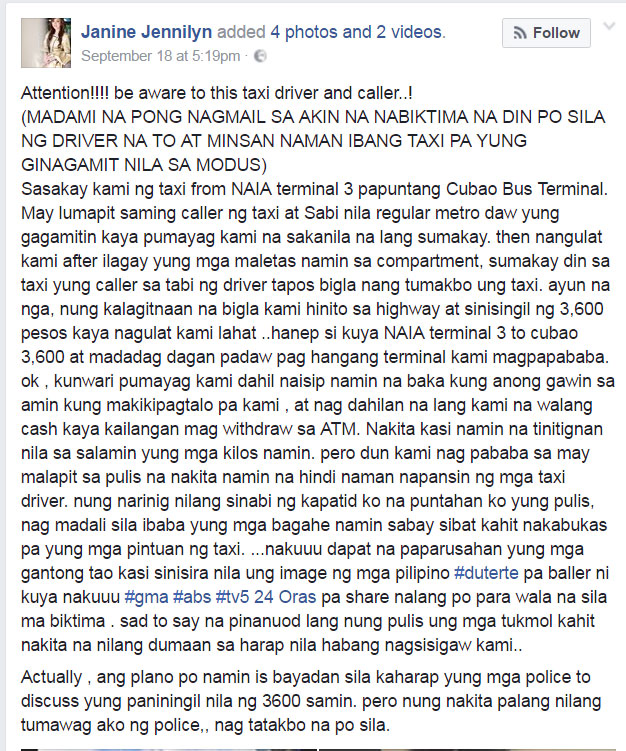 Please share!