As the Christmas Season is fast approaching, illegal activities to extort money from unsuspecting victims are vastly growing in numbers. Just recently, a BDO card holder lost her remittance money over alleged ATM machine infected by a skimming device.
According to the Facebook post of an OFW wife, she lost P40,000 just within one day. Last Oct. 2, around 2:30pm, her husband in UAE sent her money and she was able to check it the following day. Upon checking, she was shocked to see that P40,000 was lost in her account when in fact, she withdrew money last Sept. 27. She reported the issue in the nearest BDO office but according to them, she was victimized by a skimming device.
Someone she met also had the same experience. A total of P25,000 was taken from her account. The worst thing is that, the investigation will take up two weeks until 2 months but there's no guarantee that the money will get refunded to account.
The wife was in despair because that remittance is supposed-to-be a hard-earned money from his husband but was taken without hesitation.
This should serve as a strong reminder to all BDO account holders to transact in trusted ATM machines near you.
The post below : 
Just want to share!!!
Be aware po mga ATM holder lalo na sa BDO…Last Oct 2(yesterday around 2:30pm) nagsend po ng pera ang asawa ko from UAE..its sunday at malayo po ang bahay namin sa banko so i decided to check the money this day Oct 3.And laking gulat ko na may mgatransaction ng ganyan..at nangyare lamang po sa loob ng ilang oras after makapadala ng asawa ko.last na nag widraw ako is sept 27.pa..so nireport na po sa BDO they said nakapagwidraw daw ako sa atm machine na infected ng skimming or hacking device..grabe lang..di ko ineexpect na mabibiktima ako..ar eto pa may kasabay pa ko..malaking halaga din nawala sakanya..yesterday lang nagcheck sya may 25k pa atm nia at laking gulat nia na kanina pag check nia around 100 pesos na lang balance nia sa atm..Its hard to believe na kahit anong pag iingat mo hindi ka talaga makakaligtas sa mga kriminal..at masaklap pa dito we have to wait fro 2 weeks to 2 months for investigation at wala pa kasiguraduhan kung maibabalik saamin yun pera..its a remmitance.Pinaghihirapan po yun ng mga mahal namin sa buhay sa ibang bansa tapos kukuhanin lang ng walang hirap..To BDO sana naman po mas higpitan nio pa po ang security nio dahil isa kayo sa pinakamadaming customer..madami po nagtitiwala sainyo.at sana po pabilisin ang pagprocess dahil wala po kaming kasalanan sa nangyareng ito..we even don't know kung alin mga machines ang infected ng skimming..and sana po dont suggest na over the counter na lang magwithdraw palage dahil ano pa sense ng atm machine system nio…Mag ingat po tayong lahat..God bless
READ THIS TO PREVENT THIS TO HAPPEN TO YOU!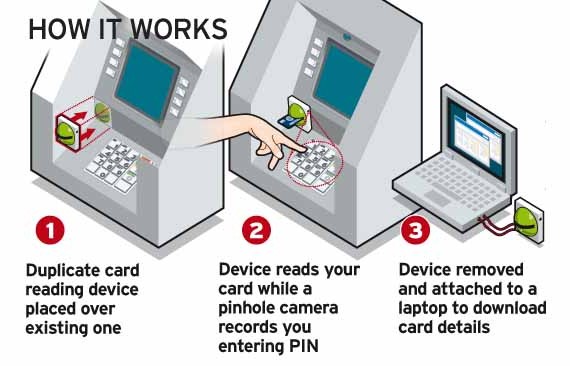 TIPS: Citizens warned against phishing and ATM skimming scams this holiday season