A cardholder named Johan Ortiz Aguilar, from Bacoor, Cavite, posted on his Facebook account his personal experience about transactions reflected on his passbook which he did not make.
According to him, there were consecutive withdrawals amounting to P10, 000 each, and it totaled to P100, 000.00 already.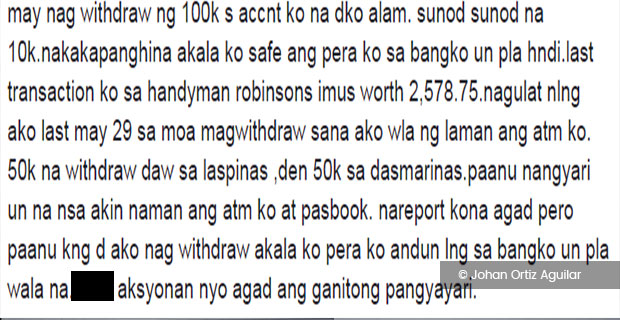 Based from his post, the last transaction that he made was at Handy Man Robinson's Imus branch amounting to P 2,578.25.
He just learned what happened with his account, when he was about to withdraw P50, 000.00 pesos in an atm at the Mall of Asia last May 29.   Surprisingly, he found out that there was no money left to withdraw from his atm card.
After checking with the bank, he learned that there were withdrawals of P50, 000.00 made in Las Pinas and another P50,000.00 made  in Dasmarinas, Cavite.
He is quite wondering how this could happen when his passbook and ATM card are both with him.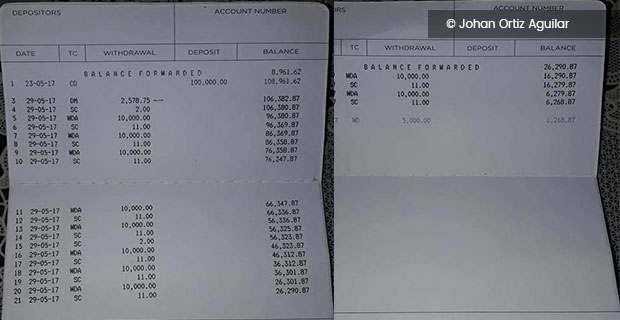 He reported the case to the bank's management and he demanded that this matter be looked upon to, the soonest possible time.
"If I did not intend to withdraw money from my account, I wouldn't be able to know that the money which I saved is no longer there," Aguilar expressed with disappointment.
With the hard earned money that he saved, he is quite not sure if saving the money in the bank will still be a good and safe idea.
Just a tip:
Please always have your bank accounts checked and report any discrepancies found to the bank where you open your accounts.
Do not disclose your ATM PINs and passwords to anybody.