More than 7,000 job opportunities awaits for the right Filipino candidate in United Kingdom. Some of well-paid jobs include civil engineer, nurses, lineman and nurses.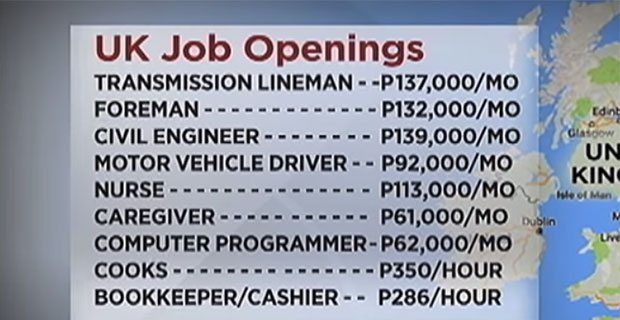 The expected salary for lineman is P137,000 every month, P132,000 for foreman, and P139,000 for civil engineer. While drivers can expect a salary of P92,000. They also need nurses, caregivers, computer programmers, cook, bookkeepers and cashier.
Julio Espinola, works as a lineman and foreman in the Philippines, wants to try this job opportunity because his salary amounting only to P600/per is not enough for the expenses of his family.
According to the Philippine Overseas Employment Administration (POEA), Julio had advantages compared to other because of his 10-year experience as lineman and foreman, two of the jobs currently in-demand in UK.
Furthermore, nurses can expect salary amounting to P113,000/month and P61,000/month for caregivers.
UK in also looking for computer programmers and their salary is as high as P62,000. Cook are also in demand there with a salary of P350 per hour. Bookkeepers and cashiers can earn P286 per hour.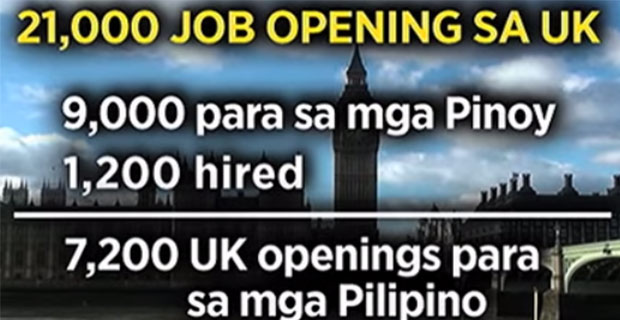 In totality, United Kingdom is looking for about 21,000 highly skilled workers as of the moment, 7,200 out of this are for Filipinos.
It will be a lot easier to get employed if you have years of experience and trainings to support your skills.
All applicants should be under accredited recruitment agencies for the job opening in UK.
POEA advices the public to look through their website to verify if the legitimacy of the recruitment agency. This is to avoid getting victimized by illegal recruiters.
You can get all the needed information of your agency including the name, address, contact information at the official website of POEA.
"First world country siyempre, mahigpit sila sa qualification education experience trainings and seminars," said POEA Deputy Administrator Jocelyn Sanchez.
For More Information Watch below 
Source ABS-CBN
Applicants are reminded to take up any job in UK either via the POEA registered agency in Philippines or registered with POLO at Philippines embassy if it is an overseas recruitment agency. Also, to avoid being scammed, please be careful to not pay any money to the recruitment agency as as it is as a norm for the employers to pay for the expenses of the recruitment and not the employee.