After allegedly experiencing maltreatment from her employer, a domestic helper chose to end her life by jumping from the 19th floor of her employer's condominium unit.
The incident happened at Depot Road condominium, around 7 in the evening of June 12.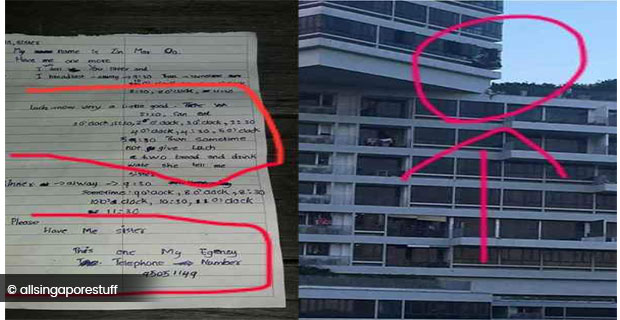 The victim was allegedly depressed because her employer treated her badly, refusing to provide the right meal for her, according to another domestic helper that she had conversation with before the incident happened.
The claims of abuse were strengthen after police authorities saw a suicide letter personally written by the victim. She confessed in the letter that her employer is overly strict and denied giving proper meals to her.
A video of her actual suicide also surfaced online. In the video, it can be seen that people tried to stop her from jumping off the building. Unfortunately, the desperate woman chose to die than to talk things out.
Netizens were keen to extend their condolences to the family of the deceased woman.
"Rest in peace sister…so sad,why do such employers treat their helpers like that…I'm lucky n blessed,kc my employers treat me well,they are my second family here in SG…. condolence to the family," said Facebook user Verma Mallillin.
"You must love your maid and treat them as part of your family. What you'll give to her, she will give it back to your family. Put your shoes to them. If you don't have a maid, you can't work and earn a big salary. Actually, they deserve more compensation," said Facebook user Deborah Ann.
"Kukuha ng katulong tapos hindi pakakainin buti pang aso pinapakain …. Katulong po iyan sa mga gawaing bahay kailangan ding kumain at magpahinga sana makuha ang hustisya," said Noli Deverson.
The case is still under investigation but according to the news, the victim is a Myanmar National and not a Filipina.
See video below : 
OFW News Portal | Para Malinaw Lang Po! Etoh Po yung Kumakalat Na Video Ng Isang Domestic Helper sa Singapore na Tumalon dahil sa Pagmamaltrato | Hindi Pinapakain Nalipasan Ng Guton! Umano Ng Kanyang AMO! Ayung Sa Balita Isa Po Siyang Myanmar National Hindi Po Siya Pinay.Any additional Information Please Comments below : Rest In Peace | Condolences

Posted by OFW News Portal on Tuesday, June 13, 2017
Source : Allsingaporestuff | OFWNewsportal