M.H. Alshaya Co. is looking for highly dynamic individuals to join their Food and Beverage Brands bound for Kuwait.
Come and attend our OPEN WEEK RECRUITMENT that is happening now until September 15 at the IPAMS office for immediate screening and eventual inclusion for the final interview. (location map:http://ipams.com/contact.php).
Alternatively, attend our Special Recruitment Activity Schedules as follows:
September 14 – PESO City Office Baguio
September 15 – Provincial PESO Lingayen City Pangasinan
September 15 – Provincial PESO Lubao Pampanga
September 16 – PESO City Office Angeles City Pampanga
Final Interview schedule is on September 28-30, 2017.
M.H. Alshaya Co. is a leading international franchise operator for over 75 of the world's most recognized retail brands. The company operates over 3,400 stores across diverse customer sectors: Fashion & Footwear, Health & Beauty, Food, Optics, Pharmacy, Home Furnishings and Leisure & Entertainment. Alshaya's stores can be found in markets across the Middle East and North Africa, Russia, Turkey and Europe.
Male and Female Food & Beverage Personnel:
Asst. Restaurant Managers
Bakers
Baristas/Bartenders
Chefs De Partie
Commis I (Line Cooks)
Commis II (Prep Cooks)
Crew Members
Hosts / Hostesses
Receivers
Restaurant Supervisors
Servers (Waiters/ Waitresses)
Do you have at least one (1) year relevant experience in the listed jobs? Bring two sets of CV and Credentials. 30-month valid passport is required. If unavailable, show proof of passport release in September. Excellent Communication Skills, Good Attitude and Pleasing Personality is required.
FIND THESE JOBS AND THEIR QUALIFICATIONS in the JOBS section of www.ipams.com and apply now.
IPAMS is an Absolute No-Fee Charging Company. This means NO Placement Fees, NO Processing Fees, NO Salary Deductions. NO Exceptions.
IPAMS is also a recipient of the Presidential Award of Excellence and a consistent recipient of the POEA Award of Excellence. License No. POEA-247-LB-120911-PA. IPAMS Bldg. 723 Aurora Blvd. New Manila, QC.
Know more about IPAMS at www.ipams.com.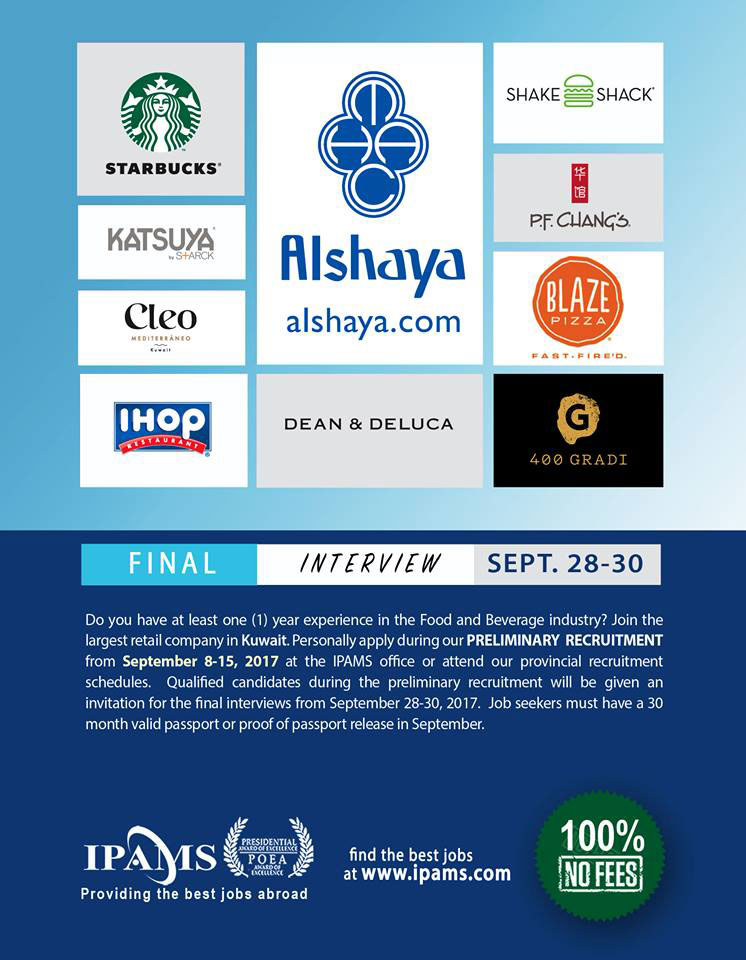 A PUBLIC WARNING: Beware of Illegal Recruiters claiming to be IPAMS Agents. IPAMS never charges applicants for interviews, cash deposits, placement fees, processing fees, or any form of payment. If you are asked for money as part of any IPAMS recruitment, please do not pay and report it immediately to [email protected] with all e-mails and other supporting documents. All applicants must personally submit applications and undergo initial screening at the IPAMS Office ONLY or at POEA-approved venues for Special Recruitment Activities.
– September 13, 2017