According to the record of the National Institutes of Health, there are 14 million solo parents in the Philippines as of 2007.  However, after 8 years had passed since last record, it was estimated that the number had grown to 20 million by this year.
Under Republic Act. No. 8972 or the "Solo Parents' Welfare Act of 2000", single parents are entitled to certain privileges.  Early this year, DSWD (Department of Social Welfare and Development) had appealed for an amendment of RA 8972 for additional benefits such as discounts on purchases including basic needs, medicine and school supplies among others.
Who are then qualified as solo parents?  Please refer below:
RA 8972 states that a solo parent is:
1. Parent left solo or alone with the responsibility of parenthood due to the following
circumstances:
a. Due to death of spouse
b. Spouse is detained or is serving sentence for a criminal conviction for at least one (1)
year
c. Physical and/or mental incapacity of spouse as certified by a public medical
practitioner
d. Legal separation or de facto separation from spouse for at least one (1) year, as long as
he/she is entrusted with the custody of the children
e. Declaration of nullity or annulment of marriage as decreed by a court or by a church as
long as he/she is entrusted with the custody of the children
Unmarried mother/father who has preferred to keep and rear her/his child/children
A woman who gives birth as a result of rape and other crimes against chastity even
without a final conviction of the offender, provided that mother keeps and raises the
child
Any other person who solely provides parental care and support to a child or children
Any family member who assumes the responsibility of head of family as a result of the
death, abandonment, disappearance or prolonged absence of the parents or solo parent
Note: Parents with OFW spouses are not considered solo parents unless the other parent who is abroad has not been in contact with the family for at least a year.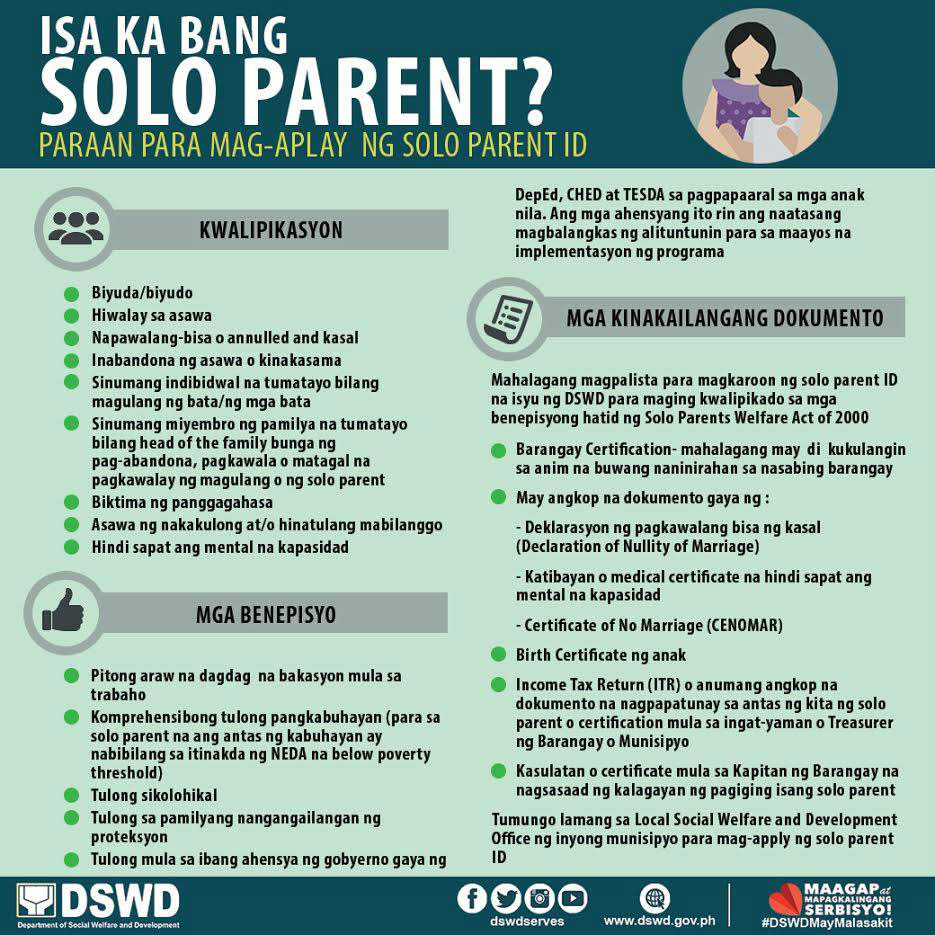 Step 1: Prepare the requirements:
A. Barangay Certificate
Proof of financial status
For working solo parents, you can request for an ITR from your company. For
self-employed and home-based working solo parents, a replacement for the ITR can
be provided as source of financial capacity per approval of DSWD.
Proof of your solo parent status
For widows, death certificate of the deceased spouse should be provided. In some
cases, declaration of nullity of marriage or a medical certificate certifying that the
spouse is incapacitated is to be submitted.
If you are separated de facto from your spouse, meaning your separation was not recognized by the court, you may submit a certificate issued by your Barangay Captain indicating your circumstances as a solo parent, according to the Philippine Statistics Authority (PSA).
D. Birth certificate/s of your child/children
Filled up Solo Parent ID application form

Step 2: Submission of documents.

Submit all the required documents at your respective Social Welfare and Development offices. The processing will take a maximum of 30 days prior to the release of your ID.
Note: Validity of the Solo Parent ID is for one year and is renewable every year.
Benefits of having a Solo Parent ID

Present your ID to avail of these benefits.
A. Flexible work schedule
The solo parent can work in flexible working hours per approval of an employer. This of course is taking into consideration that the interest and objectives of the company are not being compromised and that the solo parent's productivity is not limited.
Parental leave (7 days)
As a solo parent, you are entitled to an additional seven (7) days leave from work every year. This is provided that you have worked for your employer for at least a year and you have given at least a week's notice prior. The leaves are non-cumulative and not convertible to cash.

C. Protection against work discrimination
"No employer shall discriminate against any solo parent employee with respect to terms and conditions of employment on account of his/her status," as stated in RA 8972.

D. If applicable, additional support and assistance
If the parent falls below the poverty threshold (as set by the National Economic and Development Authority) and is deemed eligible by a DSWD worker, the parent can avail of educational, housing, and medical benefits and assistance from the following agencies: Department of Health (DOH), Commission on Higher Education (CHED), Technical Education and Skills Development Authority (TESDA), and the National Housing Authority (NHA).

Please be guided on all the benefits and privileges of a solo parent as provided by law by reading: Solo Parents' Welfare Act of 2000.
Source: BusinessMirror