Please spare some time to read.
We (Allen Ray Villanueva, his family and I, Jen Rios his fiance) are asking for any assistance anyone can share. Allen was first diagnosed last October 1, 2015 with Left Fronto Parietal Mass, Low Grade Glioma or in simple term Brain Tumor. We would like to help him and make a difference by assisting with the medical expense that his medical fight is costing him and his family.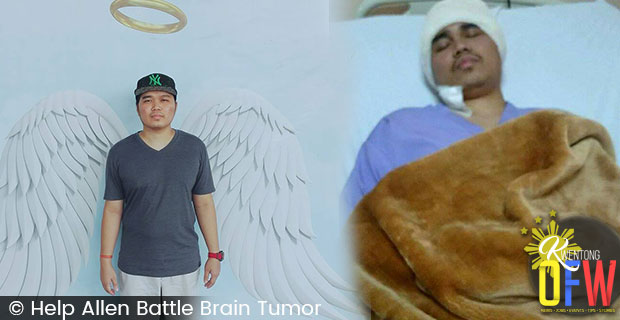 In September 2015 while Allen was in Dammam as an OFW, he went for a consult because he was having frequent headaches, vomiting, drowsiness and always feeling weak. He was then ordered to have a MRI test. This confirmed the diagnosis of his doctor that Allen have a Low Grade Glioma which is brain tumor and was recommended to have a surgery immediately. This was a very hard time for him because he was alone and he was thousand miles away from his loved ones. It was his frist time to work outside the Philippines so he doesn't have a lot of friends to help him. His cousin traveled from Riyadh to Dammam to visit and assist him in all that is needed for the operation but he couldn't stay because of his job obligation. Fortunately, the surgery will be covered by his company health insurance so he decided to brave this alone.
The brain surgery was immediately scheduled on October 6, 2015. He was blessed to have a kind employer that allowed a workmate (from his hometown) to take care of him while he was recovering. The doctor recommended to have radiotherapy sessions to clear the remaining mass. However, the therapy cannot be covered anymore by the company insurance. After 3 months, his attending physician allowed him to travel back to the Philippines where he can have the radiotherapy and with his loved ones taking care of him.
Allen tolerated and completed the required radiotherapy sessions in Manila from April 5 to May 17, 2016. He was then required to have follow up check-up every 3 months to make sure that the cyst was shrinking. The MRI was done also every 3 months from July 2016 to April 25, 2017 and thankfully the tumor was gradually decreasing. His doctor advised him that he can have the check-up and MRI every 6 months. The radiotherapy, check-ups, lab test, MRI's, confinements and medicines cost us a lot but all was relieved knowing that his tumor is going away.
With the good news, he decided to work again and was blessed to have a job in August 2017. While working, he experiencing the same symptoms again. For one week, he couldn't eat, he was in bed all day, couldn't talk due to his severe headache. He was only able to work for 3 weeks. He was confined for almost a week but recommended to have another MRI and see his doctor in Manila. October 19, 2017, the doctor confirmed that his tumor is active again and increasing in size. Consequently, Allen was advised to undergo a brain surgery again. This should be done within 3 weeks because the tumor is very aggressive and prolonging the operation can have other effect like speech impairment.
Your financial assistance will help him get the surgery he needs immediately. This is a very crucial timing so he can live a normal life. The family have all spent their monies, savings and owes some people for his radiotheraphy sessions, check-ups, lab test, MRI's, confinements and medicines after his first surgery. The total cost was almost 500,000 and this not include the surgery cost.
According to his doctor now, his 2nd surgery alone will cost about PhP 350K. With this, we need to prepare about PhP 800K conservatively to cover the surgery, hospital bills, and after surgery requirements. There in no small amount because every penny counts.
From the bottom of our hearts, in behalf of Allen and his family we thank you so much for sharing your blessings.
"It's not about one person doing one big thing… It's about a lot of people doing small things that really makes the difference." – Kevin Jonas
For information and financial support please contact 09328805365 or 09773915886 or deposit directly to below bank account.
Metrobank
Account Name: Jennifer F. Rios
Account No: 1713171881952
Employee Account No: 14-27241 (waive charge)
BDO
Account Name: Jennifer F. Rios
Account No: 007700194839