A MASSIVE 7.3-magnitude earthquake has been recorded southeast of the city of Sulaymaniyah in Iraq.
The city is located in northern Iraq, close the country's eastern border with Iran.
Some social media users in Israel, Turkey and the United Arab Emirates (UAE) have also reported feeling tremors.
The earthquake hit at 9:18pm local time at a depth of 33 kilometres.
Iraqi media is reporting that the quake was felt in several cities and has damaged at least eight villages, while thousands of people are thought to be without power.
One TV station reported: "The quake was felt in several Iranian provinces bordering Iraq … Eight villages were damaged… Electricity has been cut in some villages and rescue teams have been dispatched to those areas."
An official from the Iraqi Meteorology department said that the earthquake was felt across the country, including the capital Baghdad, but put the magnitude at around 6.5.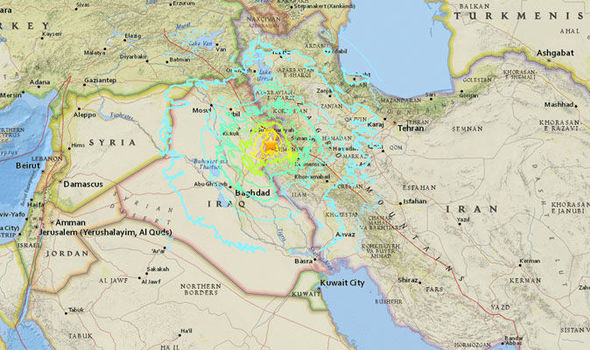 In Iran, the country's seismological centre said a 7.3 magnitude earthquake hit Azgaleh.
Qubad Talabani, the Deputy Prime Minister of Kurdistan, expressed his fears and condolences.
He said: "A real earthquake has just added to the political, security, humanitarian and economic earthquakes to have hit Kurdistan & Iraq. Via : ExpressUK