After collective efforts were made to rescue an OFW named Beth Lili from sexual harassment based on a Facebook video post of Papa Doms, it is with great happiness to share that our "kababayan" has been rescued already by the Philippine Embassy in Riyadh.
Yesterday, Beth Lili had posted several videos on Facebook where she was seen so terrified as her employers attempted to open the door of a room she stayed at while waiting for her rescue. She was then continuously seeking help as she appealed for her urgent rescue.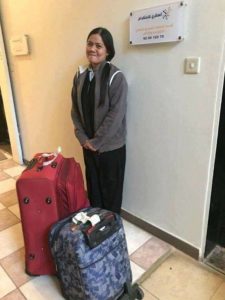 Through Facebook live, she was being monitored and eventually was saved from the hands of her abusive female employer who had been allegedly beating her and the brother who attempted to rape her.
The OFW is now under the custody of the Philippine Embassy.
As of press time, it isn't clear whether the OFW still choose to be repatriated to the Philippines or would have wanted to look for another employer.
Posted by Beth Lili on Wednesday, December 6, 2017