After BPI's allegedly system glitch last year where many netizens believed the bank had been a victim of hackers, seemed like BDO was not spared by the ruthless 'geniuses'.
Recently, news had been circulating on social media about hate messages thrown by account holders to BDO (Banco de Oro) for allegedly losing big amounts from their savings account with the bank.  However, the bank had not released any official statement to air their side.
According to Kami.com.ph, a certain BDO account holder named Tonette Pajuelas shared her sentiments on social media through Facebook.  Tonette narrated that the last balance that she had with BDO amounted to P 68,810.30.  On January 8, 2018, a deposit had been made to her account amounting to P 2,950.  Thus, she was expecting that her total money in the bank is P 71,760.  But to her dismay, she found out that she only has P 5,708 on her account.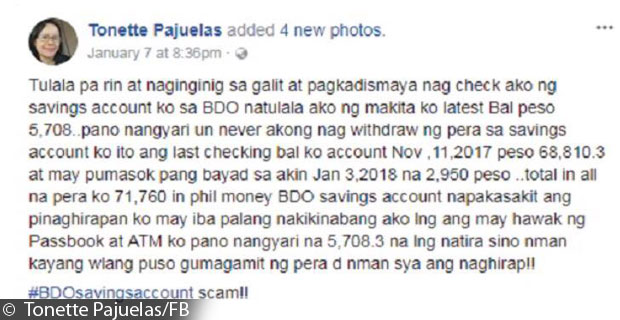 The bank account holder claimed she never made any withdrawal since the last time she inquired about her account balance last November 11, 2017.  She was then shocked and feeling terrible to know that her hard earned money disappeared in the air just like that!
On the other hand, another account holder named Erinnah Candiss felt pissed off with BDO when she allegedly lost a part of her savings after she purchased from Lazada, an online buying site where she used her BDO Kabayan savings account.  Erinnah claimed someone had used her account for an anomalous transaction and because of that, she said she would never entrust her money to BDO ever again.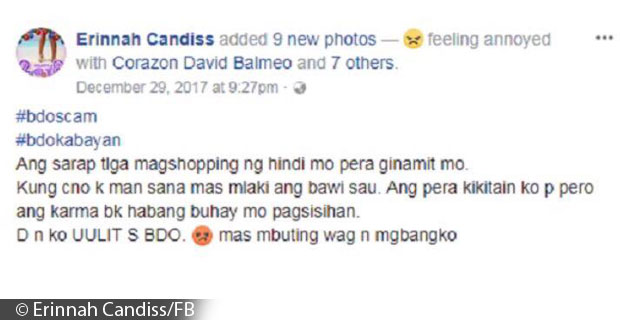 Here are other complaints from BDO account holders: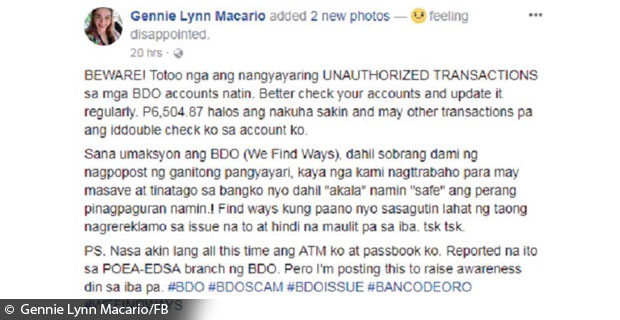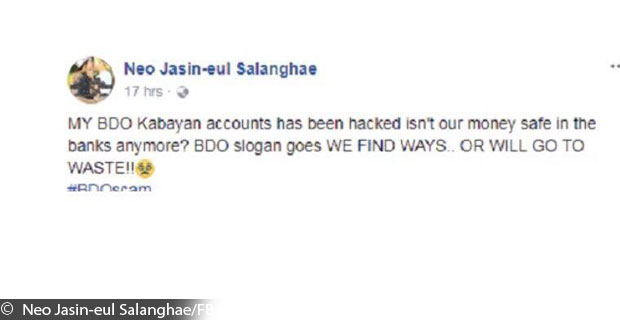 Meanwhile, a Facebook page named "Hugot Photographer" appealed to BDO account holders to be careful in opening email messages sent by suspicious people which are being used to hack their accounts and get their savings. He claimed that the hackers had designed a website similar to the bank's official web page which made it easier for them to do the fraud.
As of this writing, BDO had not released any official statement to explain their side.
In previous reports, BDO reminded all its clients to be extra careful in giving out their personal and bank account information to sites other than their official web page. If in doubt, they can call their Customer Service hotlines.
Some BDO clients claimed they are very satisfied with the way BDO had been finding ways to effectively handle and secure their accounts which lead me to the question:
Is this really BDO's fault or the bank account holders who were not careful in giving out their personal information?