Arrested for overcharging – this taxi driver got what he deserved after victimizing a Filipina domestic helper who just arrived in the Philippines from Saudi Arabia.
According to the police investigation which was led by Airport Police Inspector Rhoderic Mejia, taxi driver Jesus Pingol waited outside Ninoy Aquino International Airport (NAIA) Terminal 2. His taxi is a white Lyngail with a plate number of UVM 524.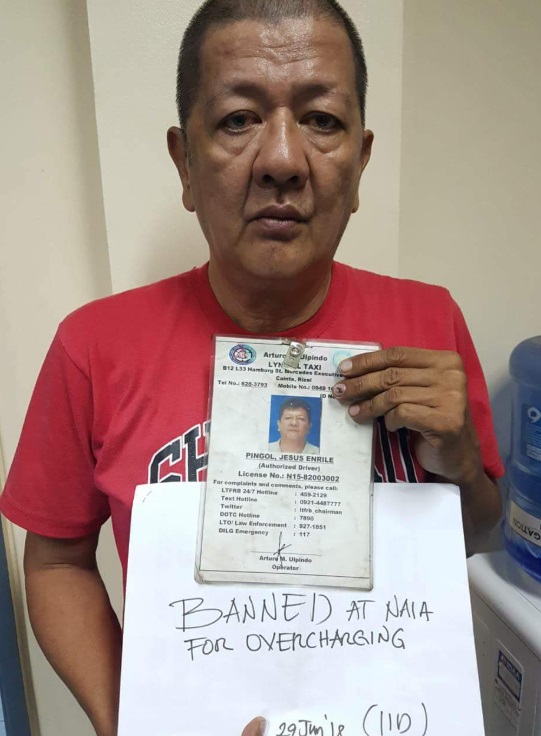 The Intelligence and Investigation Division (IID) of the Manila International Airport Authority (MIAA) is currently conducting an intense operation to succumb to these drivers who are deliberately victimizing OFWs by charging them excessive fare.
On Friday, around 6 in the morning, they received a complaint against a taxi driver who was charging a domestic helper a really high fare.
The OFW was identified as Michelle Dasalla, who went to Saudi Arabia to work as a domestic helper. According to her, the suspect charged her PhP7,000 or 500 Saudi Riyals, equivalent to her half month salary, for a ride from the terminal to Balintawak, Quezon City.
Immediately, MIAA authorities launched a manhunt activity and arrested the overcharging taxi driver. He denied the allegations at first.
However, during the interrogation, the suspect confessed to his crime and agreed to return the amount to the victim.
It was also found out that the victim went back to the Philippines because of her employers in Saudi Arabia abused her.
Furthermore, the suspect was charged with overcharging and all Lyngail taxi units were banned from entering all NAIA terminals.