An Overseas Filipino Worker (OFW) in Abu Dhabi was luckily saved after encountering a road mishap, together with another Filipina nanny, their employer,and two kids.
The OFW was identified as Jelyn G. Penton. She was able to tell the entire story in a Facebook post which instantly became viral.
According to Penton, the accident happened on August 8, 2018, past 7 P.M. They were from GhayathiRuwais City, going to Liwa Farm. Since the travel time was long, she fell asleep.
However, she was awakened after feeling as though they crashed into something.
"I woke up after realizing that our car crashed into something. I started yelling because I didn't know what happened. Just then, I realized that we just had an accident," says Penton.
She also recalled how she protected the child who was sitting on her lap and also bleeding.
"I shouted as hard as I could inside the car. I saw the other nanny carrying the other child but they both thrown outside as the car continuously rolled," says Penton. "Later on, I was also thrown outside the car but still I managed to hold on to the child."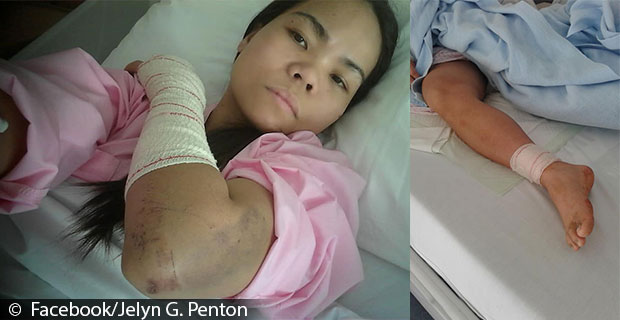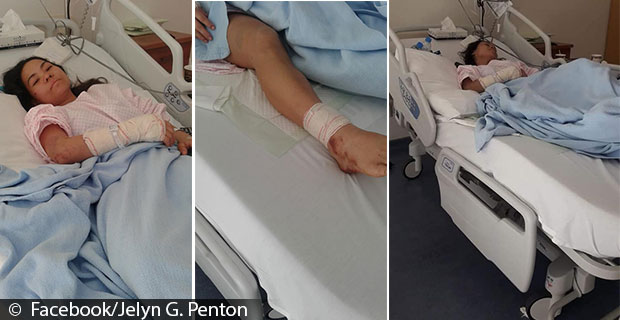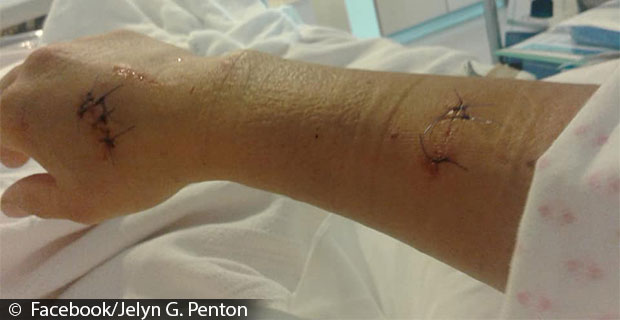 The last person who was thrown out was her female employer, who was also the one driving the car.
After that, their car started to explode.
But Penton was lucky enough to escape from fire. She helped the other nanny, the child, and their employer.
The OFW suffered from wounds in her feet and hands.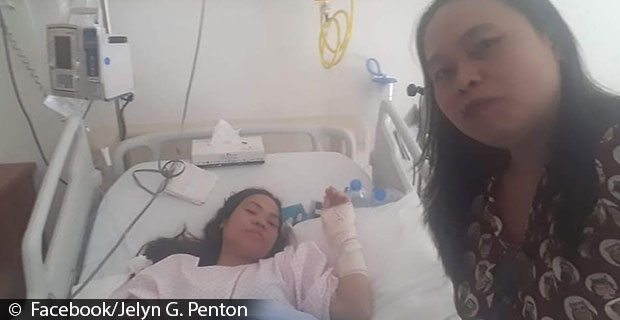 She shouted for help but no one dared to help them because according to the people around, they might get into trouble if they help them.
Luckily, one Pakistani man dared to give them help. They called the ambulance and their male employer.
After one hour, the ambulance and their male employer reached the scene.
The OFW was taken to Ghayathi Hospital.
"Thank you, God, for giving me a second life. NOTE: It's an accident, we don't know what is coming," Penton ended her post.
What's so great about Penton is the fact that she was able to save their things at the back of the car before it fully exploded to fire. This, despite the fear and the wounds she acquired.
You are indeed a hero, JELYN!
See click below
#TRUE_LIFE_SAD_STORY!!!AKO PO SI JELYN G.PENTON ISANG OFW DITO SA ABU DHABI..i'share ko lang po dito sa personal timeline ko ang PINAKA MASAKLAP NA NANGYAYARI SA BUONG BUHAY KO..#ANG_TRAHEDYA!!!August 8,2018past 7pmCAR ACCIDENT6;20PM lumabas kami ng bahay sa GHAYATHI RUWAIS CITY…biyaheng pa puntang LIWA FARM..dahil nasa biyahe kami, nakatulog ang alaga naming kambal..karga ko ang isang bata nasa likod ako ng driver(my madam ang nag drive)sa kabilang side nman ung kasama kong pinay ( si jing)karga nman nya ang isang bata..puno ng mga gamit kc ang likuran namin kaya hindi kami nag dala ng CAR SEAT para sa mga bata..habang tulog ang mga bata, pati kaming dalawa na nanny nakatulog din dahil malayo layo nman ang biyahe puntang LIWA FARM mula GHAYATHI..(UM AL HUSSAN STREET..)PART OF LIWA MADINA SITES…NAGISING AKO DAHIL NAKARAMDAM AKO NANG PAG CRASH NG KOTSE NA SINASAKYAN NAMIN..TAPOS BIGLANG SUMISIGSAG ANG TAKBO NG KOTSE PATABI NG KALSADA..TAPOS NAG SISIGAW NA AKO SA LOOB NG SASAKYAN DAHIL HINDI KO ALAM ANONG NANGYARI SA AMIN..UN PALA AY NASA AKSIDENTE NA KAMI..SUMIGAW AKO NG SUMIGAW SA LOOB NG KOTSE HABANG GUMUGULONG KOTSE..SA KABILAMG SIDE UNANG TUMAGILID KUNG SAAN NAKA UPO ANG ISA KONG KASAMA NA NANNY AT KARGA ANG ISANG BATA..NAKA ILANG GULONG ANG KOTSE TUMAPON ANG ISANG BATA NA KARGA NG KASAMA KO..MGA ILANG GULONG PA ANG KOTSE TUMILAPON NMAN ANG KASAMA KO..NAGKAHIWALAY CLA NG TAPON NG ISANG BATA..TAPOS ILANG GULONG PA SAKA AKO ANG NATAPON NA HAWAK NAHAWAK ANG BATANA HINDI KO ALAM KUNG SAAN AKO/KaMI LUMABAS..TAPOS ANG HULING TUMILAPON AY ANG MADAM KO NA NAGDRIVE NG KOTSE..NAKITA KO KUNG PAANO CYA TUMILAPON SA HARAP NA SALAMIN NG KOTSE PALABAS NG KOTSE..(huhuhuh anong sakit ng puso ko dahil nakita ang lahat na pangyayari)TAPOS NAG UMPISA NANG UMAPOY ANG KOTSE , MAY PUMUTOK SABAY ANG APOY..(huhuhuhu?????)PARA BANG MAY ANGEL? NA TUMULONG AT UMAKAY SA AKIN PARA TUMAYO HABANG KARGA KARGA KO ANG BATA..NAKALABAS AKO NG KOTSE NA KARGA KO ANG BATA..HINDI KO BINITAWAN ANG BATA HABANG GUMUGULONG KAMI SA LOOB NG KOTSE..SUGATAN NA AKO, MAY HIWA AKO SA KANANG PAA, UMAAGOS ANG DUGO..AT MAY DALAWANG HIWA DIN AKO SA KAMAY..HABANG UMAAGOS DIN ANG DUGO..PAGKATAYO KO HINANAP KO AGAD ANG MGA KASAMA KO..ANG ISANG BATA, ANG KASAMA KONG PINAY(NANNY) AT ANG AMO KONG BABAE( MY MADAM){may mga tao na nakatingin sa akin/amin ng mga oras na iyon..}UMIIYAK AKO NG IYAK AT SUMISIGAW NGHINGI NG TULONG.. PERO SABI NG ISANG TAO…I AM SORRY WE CANNOT HELP YOU..WE WILL HAVE A PROBLEM IF WE HELP YOU..sabi ko..OH MY GOD WHY YOU CANT HELP ME?PLEASE HELP ME ..PLEASE….HUHUHUHUPLEASE HELP US!!!PLEASE BRING US TO THE HOSPITAL..PLEASE..(isang tao— IM SORRY I CANT HELP YOU)DAHIL TUMAYO AKO NA AKAY AKAY KO ANG ISANG BATA..HINDING HINDI KO TALAGA BINITAWAN MULA SA PAG GULONG GULONG NG KOTSE HANGANG SA NAKALABAS AT NAKATAYO AKO..HAWAK KO PA RIN ANG BATA PERO DUGUAN DIN..NANG MAKITA KO ANG KASAMA KO NA NAKAHIGA SA LUPA AT MEDYO MALAPIT CYA SA KOTSE, SUMISIGAW AKO…(CYA NAGISING MULA SA PAGKAWALAN NG MALAY)SABI NYA – ANONG NANGYARI SA ATIN JEN?? …SABI KO JING NA AKSIDENTE TAYO JING..AT SUMABOG ANG KOTSE..CYA– HINDI AKO MAKAHINGA JEN TULUNGAN MO AKO..WAG MO AKONG IWAN JEN PLEASE..– HINIHIMAS HIMAS KO AG DIBDIB NYA KAHIT NA DUGUAN DIN ANG KAMAY KO.. AKO– ( umiiyak huhuhuhu) OO JING HINDI KITA IIWAN TAYONG DALAWA LNG ANDITO…KAYA HINDI KITA IIWAN JING…(huhuhuhu).PLEASE WAG KANG MATULOG JING PLEASE..ISIPIN MO PAMILYA MO SA PINAS..PLEASE JING..(huhuhuhu)SABI NYA – JEN I CANT BREATH, I CANT BREATH..sabay iyak cya ng iyak..SABI KO— PLEASE JING DONT SLEEP ..PLEASE DONT SLEEP… huhuhuhuTAPOS HINILA KO CYA PAPALAYO PERO DAHIL SA MABIGAT ANG KASAMA KO TUMULO ANG DUGO SA KAMAY KO AT SUMAKIT ..MAY TAONG LUMAPIT SA AKIN ( PAKISTANI)NANGHINGI AKO NG TULONG SA KANYA NA ILAYO ANG KASAMA KO SA KOTSE DAHIL PUMUTOK AT SUMABOG AT UMAAPOY NA ANG KOTSE..( buti at tinutulungan ako ng dalawang lalaki ….inilayo nila ang kasama ko..)TAPOS NAKITA KO ANG ISANG BATA SA MALAYO NAKAHIGA DIN SA LUPA..IBINIGAY KO ANG BATA NA KARGA KO SA ISANG TAO(PAKISTANI)PINAPAHAWAKAN KO SA KANYA..PARA KUNIN KO ANG ISANG BATA NA NAKA HIGA SA LUPA..KINUHA KO AT KALONG KALONG KO..PURO BUHANGIN ANG MUKHA NG MGA BATA..PERO UMIIYAK..NIYAKAP KONG MAHIGPIT ANG BATA AT NAGPASALAMAT SA DIYOS DAHIL BUHAY ANG BATA..???TAPOS HINDI KO NA BINITAWAN ANG BATA..KALONG KALONG KO NA CYA..TAPOS NAKITA KO ANG CELPHONE NG MADAM KO..MAY TUMATAWAG SA CELPHONE NYA SINAGOT KO..(PHONE)AKO -HELLO .. HELLO PLEASE HELP ME , HELP ME WE ARE AN ACCIDENT, WE ARE AN ACCIDENT..PLEASE ME..( sa kabilang linya)WHERE ARE YOU?TELL ME WHERE ARE YOU SO I CAN HELP You..DAHIL HINDI KO ALAM ANG LOCATION KUNG SAAN KAMI NA AKSIDENTE..PINAPA KAUSAP KO SA PAKISTANI ..BINIGAY KO SA PAKISTANI NA MAY HAWAK NA BATA ANG CELPHONE NI MADAM..KINAUSAP NYA AT SINABI ANG LOCATION NAMIN..(habang umiiyak ako..huhuhuhu)TAPOS PINUNTAHAN KO C MADAM KUNG SAAN CYA TUMILAPON..DAHIL MEDYO MALAPIT DIN CYA SA KOTSE..HINILA KO RIN CYA PAPALAYO..PERO DAHIL MABIGAT DIN C MADAM NANGHINGI AKO NG TULONG SA MGA TAONG NANONOOD SA AMIN..TAPOS NAILAYO NA NILA C MADAM SA KOTSE..SABI KO MADAM huhuhuhu MADAM huhuhu umiiyak ako..GISING C MADAM..SABI NYA AWALAD?? WEN AWALAD?? ( SABI NYA SAAN MGA BATA)SABI KO ..HALHAMDULILAH MADAM BABY ZAIN..sabay iyak..SABI NI MADAM ..ABI MOT( mamatay na ako)SABI KO..NO MADAM PLEASE DONT SLEEP , PLEASE DONT SLEEP, YOU HAVE A BABIES..PLEASE DONT SLEEP..THE POLICE AND THE ABULANCE WILL COME..SO PLEASE DONT SLEEP..TAPOS NAKITA KONG SASABOG NANG TULUYAN ANG KOTSE..BAGO SUMABOG NAGAWA KO PAMG ILABAS ANG MGA GAMIT NAMIN SA LIKURAN NG KOTSE..KC SA DRIVER SEAT PA ANG UMAPOY..NAAGAPAN KO PANG KUNIN ANG MGA GAMIT NAMIN..BAGO PUMUTOK NG ISA , DALAWA AT TATLO SABAY SABOG ANG KOTSE AT UMAAPOY NA..UMIIYAK AKO AT NAGSISIGAW AT NATATARANDA DAHIL SA POBYA NG PAGSABOG AT PAG APOY NG KOTSE..sa Celphone ni madam HINAHANAP KO ANG NUMBER NI BABA( AMO KONG LALAKI..)DINIAL KO ANG NUMBER NI BABA TAPOS TUMAWAG CYA..SINAGOT KO..(dahil sa hindi marunong mag mag english amo kong lalaki ..inarabic at english ko cya)PHONEAKO-HELLO BABAHELLO BABA { HABANG UMIIYAK huhuhhu}HELLOO BABA SAADNI LAWSAMAKTI BABA SAADNI WE ARE AN ACCIDENTPLEASE HELP ME BABA..TAAL BI SUURAAAHHH BABA PLEASE. LAWSAMAKTI BABA TAAL UBSUURRAAHHH!!!huhuhuhuh-sa kabilang linya-Wen antum?wen makan antom alhin?Ako- BABA KALMI HADI RIYAL BABA HUWA KALAM WEN AHNA NALHIN..PLEASE BABA LAWSAMAKTI BABA TAAL BI SUUUURRRAAAHHH..HUHUHUHUHHALOS MAG IISANG ORAS BAGO DUMATING ANG MGA PULIS at ANG AMBULANCE AT ANG AMO KONG LALAKI..ISINAKAY AKO AT ANG DALAWANG BATA SA KOTSE NG AMO KONG LALAKI..SAMANTALANG ANG AMO KONG BABAE AT ANG KASAMA KO ISINAKAY CLA SA AMBULANCE..DINALA KAMI SA GHAYATHI HOSPITAL..???THANK YOU GOD FOR GIVING ME A SECOND LIFE????NOTE: IT'S AN ACCIDENT WE DONT KNOW WHAT IS COMING!!!!Courtesy | Jelyn G. Penton is with Aramina Penton and 6 others at Ghayathi Hospital.August 12 at 7:08 PM · Ruwais, United Arab Emirates ·

Posted by OFW Community on Thursday, August 23, 2018