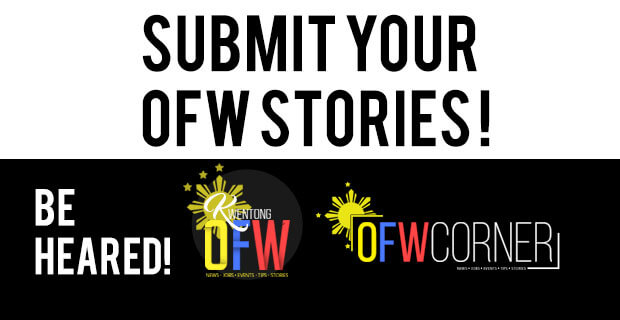 If you are OFW Around the Globe and you have inspiring story to tell please submit it now!
If you have a video that you want to see on the front page of Kwentong OFW & OFW Corner , send it to us! Do you have a story you think everyone would love to hear?
We will publish your contents story in our Facebook Page and it will be posted in website  to expose your words. We often feature photographers' galleries, interesting stories, every day occurrences that deserve attention, and just about anything else.
What we are looking for:
Amazing, Inspiring, OFW stories, and Informative articles.
Great English or Tagalog  and good sense of humor
100% original Stories  that is not copied from somewhere.
Photos that include on your story if available.
Answer below Q & A :
What made you decide to work outside the country
How did you acquired work abroad?
How did you find life abroad?
What is the greatest adjustment you had while working abroad?
What are your bad experiences abroad?
When do you plan to settle down in the Philippines?
How did you handled homesickness?
What are the things you regret during your stay abroad? How did you manage to get through it?
What does it really feels to work abroad?
Did you ever regret working abroad?
Just write and send your stories  to

[email protected]

.
Terms and Conditions
By submitting text, photos, and video to Kwentong OFW , you agree that the content does not infringe or violate someone else's rights or otherwise violates the law.
You also grant us a royalty-free, perpetual, irrevocable, non-exclusive, unrestricted, worldwide license to publicly display your User Content on Kwentong OFW
Note :
Stories will be publish in both Kwentong OFW & OFW Corner Facebook Page and Website