MANILA, Philippines – Senate President Pro-Tempore Ralph Recto on Sunday said a new "Balikbayan Box Law" (BBL) is now pending for approval in the Senate after it was consolidated with a Customs reform bill.
Once passed, the new Balikbayan Box Law will benefit millions of Filipinos as more of them living and working overseas will be allowed to bring in more goods to their families without paying huge amount of taxes.
"The proposed Balikbayan Box Law is now a section in the proposed Customs Modernisation and Tariff Act [CMTA]," Senate President Pro Tempore Ralph G. Recto said on Sunday.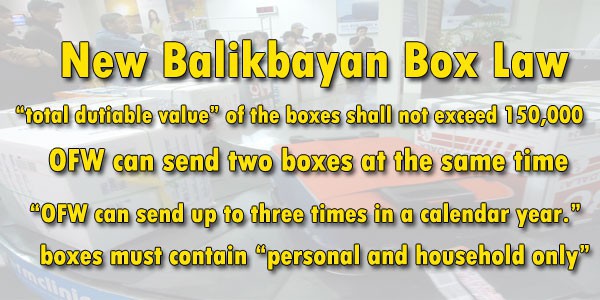 "Residents of the Philippines, Overseas Filipino Workers, other Filipinos while residing abroad or in their return to the Philippines shall be allowed to bring in or send to their families or relatives in the Philippines balikbayan boxes which shall be exempt from duties and taxes," the section read.
Recto said that with his proposed BBL, the "total dutiable value" of the boxes shall not exceed 150,000 which can only be enjoyed "up to three times in a calendar year." However, the measure states that the boxes must contain "personal and household effects only and shall neither be in commercial quantities, nor intended for barter, sale or for hire."
"This means that an OFW can send two boxes at the same time provided that their total worth is not more than P150,000. That will be counted as one shipment," Recto said.
"This is to prevent senders from abusing this privilege. With this privilege comes the duty to observe the law. And it also comes with penalties so that smugglers won't take advantage of it," he added.
Currently, the tax-exempt value Filipinos are allowed to send through Balikbayan box cargo without paying taxes is P10,000 Under the proposed changes in the CMTA, the limit will be raised to P150,000