It's almost Christmas! OFWs from different corners of the world were packing their balikbayan boxes or planning a trip back home. However, there are designated number of quantities allowed per item.
Quantity of items allowed to be brought to the Philippines without clearance from the Food and Drug Administration and Department of Health:
Shampoo – 2 Kilograms
Bar Soap – 2 Kilograms
Hazardous Substances (Fabric Conditioners, Dishwashing Liquid, Detergent, etc.) – 5 Kilograms
Perfumes – 5 Pieces
Lipstick – 10 Pieces
Assorted Cosmetics – 1 Kilogram
Toys – 10 Pieces
Childcare Articles – 5 Kilograms
Items are allowed to be brought to the country through Balikbayan Boxes, Parcels or Passenger's Baggage.
SEE ALSO GOOD NEWS : BOC to remove physical inspection of balikbayan boxes
The Bureau of Customs has released the newest guidelines to raise awareness to OFWs planning to return to the country or pack their balikbayan boxes for the holiday season.
According to BOC, passengers and OFWs should limit the items brought to the Philippines to avoid unnecessary charges.
See image below by BOC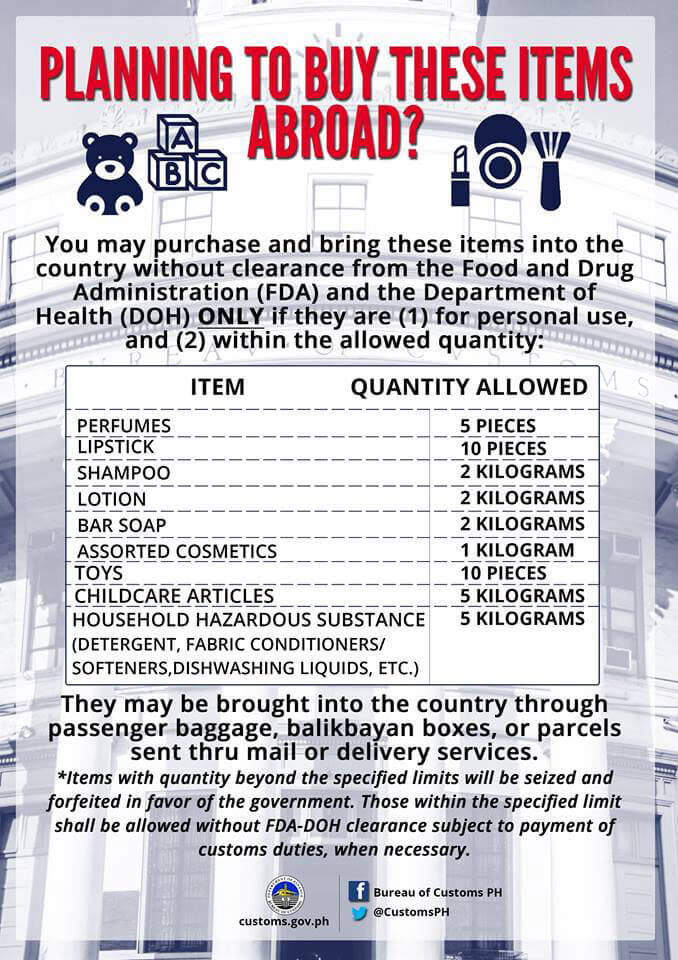 o