As technology in the Philippines has been developing to ensure a more efficient and effective way to help the Filipinos in different aspects, the government continues to find measures on how to provide better services for its citizens.
The DOLE (Department of Labor and Employment)  is on its way to implementing a new ID system which will be issued to OFWs  (Overseas Filipino Workers) and will be called "I-DOLE"
Secretary Silvestre BelloIII, DOLE secretary told in a briefing in Malacanang last July 12 before His Excellency President Rodrigo Duterte, the launching of the I-DOLE as the new ID of Overseas Filipino Workers which aims to provide convenience dissolving past procedure of applying for an OEC (Overseas Employment Certificate) that OFWs need to secure and  present to the country which they will be working for to prove their  legitimacy as Filipino workers.
The said I-DOLE can also be used in claiming benefits from government institutions such as SSS (Social Security System), HMDF (Home Development Mutual Fund or Pag-Ibig Fund) and Philhealth (Philippine Health Insurance Corporation).
Secretary Bello also said that they are working on the possibility that the I-DOLE be used as a passport by the OFWs, given another six months to work on it. As his department is eyeing on this, they are closely coordinating with the Department of Foreign Affairs and the Department of Justice through the Bureau of Investigation to expedite procedures so that their plans will materialize.
He also stated that OFWs need not apply for their I-DOLE because they will be issuing the said IDs based on the inventory of all bonafide OFWs which will be provided by POEA (Philippine Overseas Employment Administration) in synchronization with data which will be provided by the Department of Labor after which, the IDs will be mailed to the OFW's registered address.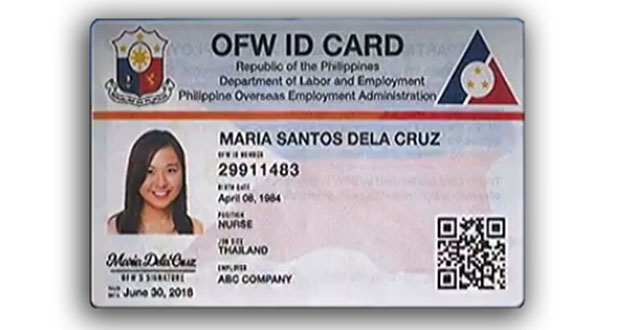 Steps on Availing an I-DOLE:
Reminder : As application of I-DOLE is not yet available online via DOLE's website, you are required to go to any DOLE office nearest you or to their main office.
1)  Go to the main office of DOLE or to any DOLE office branch  nearest to your place.  You may check on the list of their offices here.
2) Bring 2 or more valid IDs as proof of your identification. Government IDs are surely considered valid.
3) Upon reaching DOLE's office, approach the person-in-charge for your application.
4) As the need arises, present your OEC as a proof that you have applied for an I-DOLE for the first time.
5) Wait for the processing as your name will be verified from the data base of qualified OFWs based from POEA's listing.
6) After successful verification, your ID will then be printed and will be made ready for release
7)  Wait until your name be called for the release of your I-DOLE.
Watch video for more information
i-DOLE system na magpapabilis daw sa proseso sa POEA at OWWA, ilulunsad sa Disyembre. Tinutukan 'yan ni JP Soriano.Sa mga Kapuso abroad, tumutok o mag-subscribe sa GMA Pinoy TV, GMA Life TV, at GMA News TV International para sa iba pang mga balita.

Posted by GMA News on Saturday, November 25, 2017