An American woman in Dubai was shocked to see her missing jewelleries being worn by her previous Filipina maid who denied that she had stolen them before the Dubai Court of First Instance.
Apparently, the 28-year-old Filipina maid said that she purchased the expensive jewellery from a store in Satwa, but when the police conducted their investigation on the said store, the owner said they never sold any necklace of the same kind.
It was one day after arriving for work when the woman saw the Facebook post of the Filipina maid who escaped in March of 2016. Shockingly, she was able to identify the necklace which her maid was wearing to be her missing necklace.
When the maid had previously left, the woman was not yet sure that she had stolen her valuables. However, the woman was convinced that her maid had stolen it from her after she had seen the maid's photo wearing the DH5,000-worth (US$1,360) necklace which she posted on Facebook.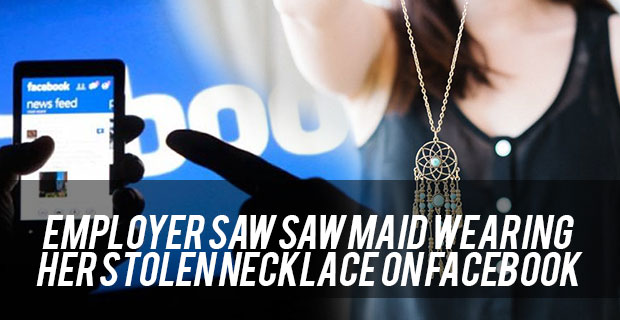 The woman reported the matter to the police who came to arrest the Filipina in July 2017.  Prosecutors accused the Filipina for stealing Dh5,000 (US$1,360), bracelet worth Dh3,700 (US$1,007), Dh600 (US$164) cash and a fragrance worth Dh600 (US$164).
"I did not steal anything from them," the Filipina maid said before presiding judge Urfan Omar of Dubai Court of First Instance.
"Why did they complain then?" presiding judge Omar asked.
"They asked me if I wanted to stay working for them, but when I told them no and asked them to fly me back home … they got angry and decided to complain. I didn't take anything," the Filipina maid responded.
However, her American employer refuted what she said and claimed, "She left the house … when I visited her Facebook page and saw her wearing my missing necklace, I realised that she had robbed me."
Meanwhile, a Lebanese manager testified to prosecutors and said that she once saw the necklace being work by the American woman who happened to be her workmate.  She also confirmed the fact to the policemen that it was exactly what she saw the Filipina maid was wearing from her post on Facebook.
"I told them it was the same necklace that I had seen my co-worker wearing."
The Filipina defended herself and said that she purchased the jewelries from a store in Satwa.  It was later on discovered to be a lie as after investigations had been conducted, the store's owner personally denied selling the same.
The court shall be giving the verdict on October 16.