The Philippine Embassy in Spain had raised their search for one Pinoy who allegedly engaged in fraudulent actions, getting a total of P5.4 million from his victims who were mostly his kababayans.  The man had victimized Filipinos in Spain from cities of Granada, Madrid, Valencia and Barcelona after he had promised enticing offers by investing in his apartment business and being able to help their families to avail of tourist's visa to be with them which turned out to be all lies.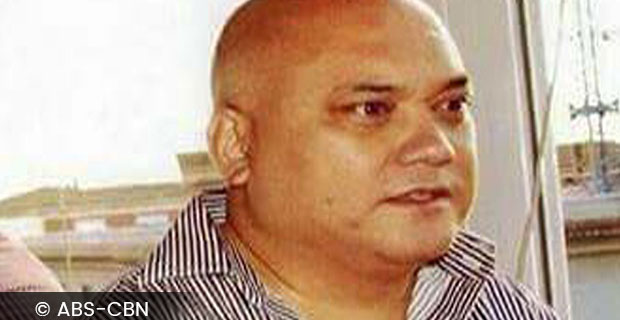 Identified as Isidro Lucas Rodriguez, he is now considered as a fugitive in Spain.
According to the victims, Rodriguez promised high returns after they've invested in his apartment which was being leased to students and foreigners. He also asked for a huge amount of money for extending assistance to relatives of his victims in acquiring tourist visas.  He claimed that he has connections with the Spanish government making it easier for him to acquire the needed documents for release of visa.
As such, a victim who refused to be named, narrated that she had given 5,450 euros (P325,000) to Rodriguez in exchange of the family's tourist visas. She had been convinced that Rodriguez knows top government officials at the Spanish Embassy in the Philippines which will expedite the procedure.
"Naniwala kami sa inyo, sana 'wag ka ng mambiktima pa ng iba, sana kung mambiktima ka piliin mo man yung mayaman, 'wag tulad sa akin, ano lang, sahod lang, hindi pa nga nahawakan ang sahod, ubos na," the victim said.
Another victim named Mayte said that she had invested her hard-earned entire 2,000-euro savings for his apartment-for-rent business, promising she will earn high returns from it.
Apparently, his victims were claiming that he appeared to be a refined man, well-versed and eloquent speaker that convinced them easily and made them trust him which some among them were only reached by Rodriguez by sending a message on Facebook
"Pinakita niya yung video, lolo nya daw yung E. Rodriguez sa Maynila, tapos may-ari sila ng beach sa may Samal, Davao. Nakapunta lang daw siya sa Spain bago nanalo si Duterte. Sana raw kung alam niyang manalo si Duterte, supposed to be doon na lang siya sa Pilipinas. Kahit hindi siya magtrabaho, ok lang kasi pinapadalhan siya ng parents niya from the Philippines ng 1,800 euro," Mayte added.
While Linda, one among his victims said that it seemed like Rodriguez had somehow hypnotized her.
"May duda ako kahit nakapagbigay ako ng pera, may nerbiyos. Hindi ko ho alam parang may hinatak kami… Ang galing ho nya, para hong may tactics, magic, ewan ko, hypnotize," she narrated.
It was learned however that Rodriguez had a long history of cases of human trafficking, estafa and illegal recruitment based on a statement of Migrante International, an alliance of Filipino expatriates and existing pending cases of the same as filed by about 300 Filipino teachers.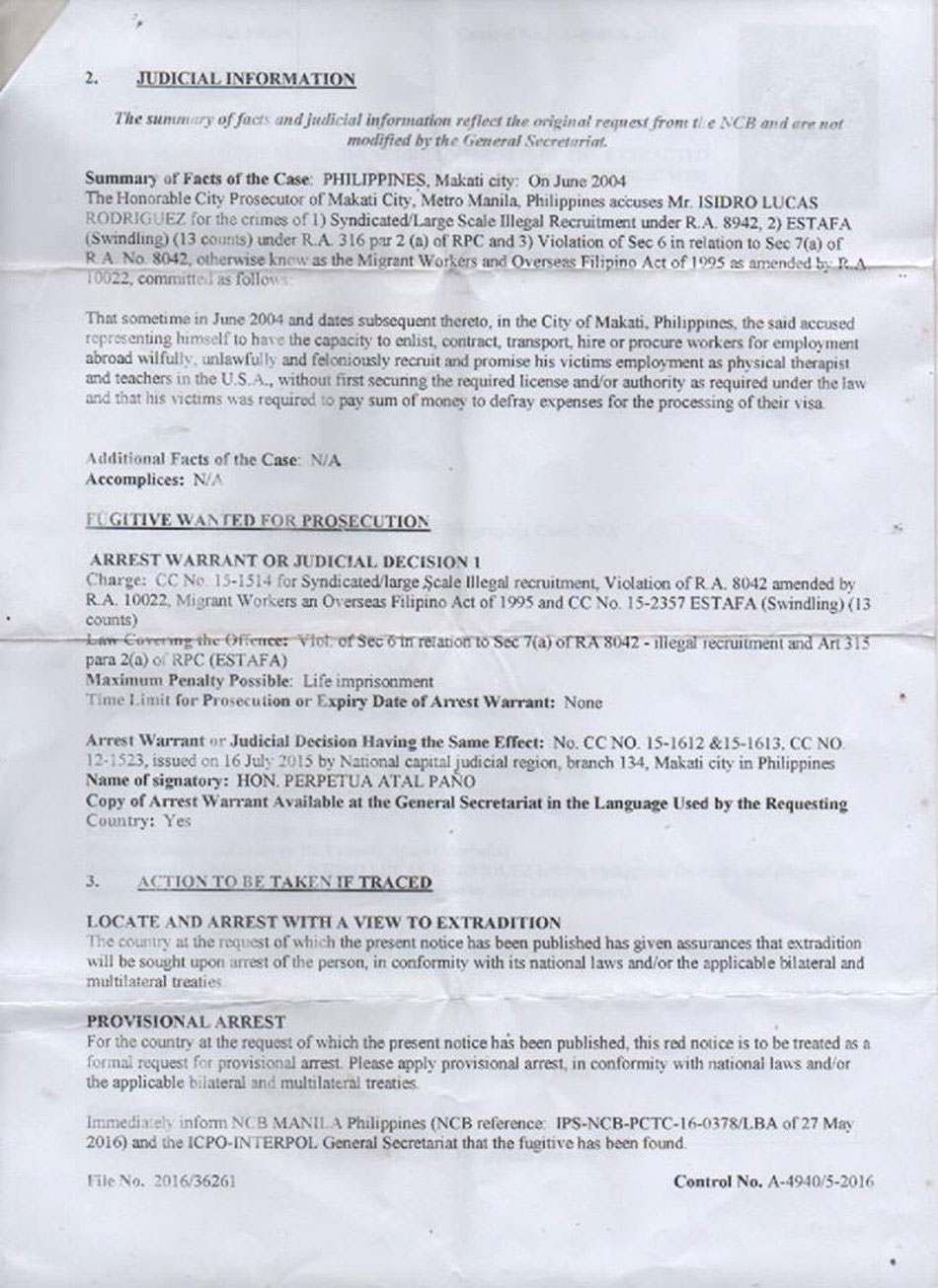 In the year 2014, Rodriguez has appeared to be on the top list of illegal recruiters and traffickers in the Philippines by the Philippine Embassy in Washington as it posted warnings on its Twitter account.
Cases have already been filed against Rodriguez and now the subject of a manhunt.
His victims were on a campaign for his fast captivity hoping they will get justice after they have been swindled totaling about P5.4 million.
 "Magtulungan po tayo para po sa mabilis na ikadadakip…upang gumulong na
ang kaso niya rito (sa Pilipinas)," Teacher Noel Naparato said.
 "Nananawagan po ako sa mga taga-Spain kasi kayo po ang isa sa mga susi para mahuli po namin si Isidro Lucas Rodriguez," Engelyn Belmonte-Morano, spokesperson of a group of Filipinos in Spain added.
Any information leading to his immediate arrest may be reported to the Philippine Embassy in Spain through phone numbers 937-823-830 or 616-491-861.