With the increasing number of unemployed citizens in the Philippines, more and more Filipinos are considering to try their luck in working abroad.  With their desire to leave the country, they carry with them their dreams of having a better future, a more stable career, and a work more financially rewarding not only for themselves but more for their families and loved-ones.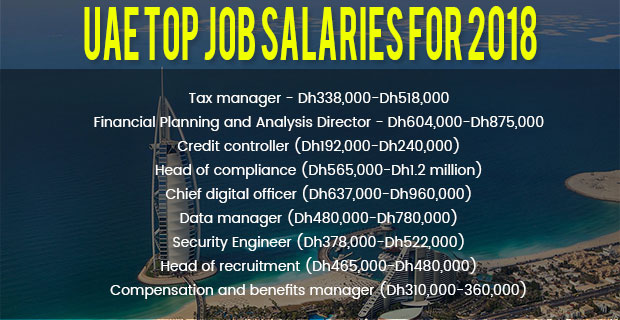 Recently, Middle East Finance comparison website, Yallacompare, released a list of the highest paying jobs in UAE for the coming year, 2018.  The jobs are based in the latest salary guide by specialized staffing firm Robert Half.
Since the United Arab Emirates is about to rise as a technology hub, the highest paid positions will be focused on tax and technology and will also implement new VAT (value added tax) laws based on the guide.
Take a look at the following positions and their corresponding compensation so you may have a hint what position to apply for:
Tax manager – Dh338,000-Dh518,000
Financial Planning and Analysis Director – Dh604,000-Dh875,000
Credit controller (Dh192,000-Dh240,000)
Head of compliance (Dh565,000-Dh1.2 million)
Chief digital officer (Dh637,000-Dh960,000)
Data manager (Dh480,000-Dh780,000)
Security Engineer (Dh378,000-Dh522,000)
Head of recruitment (Dh465,000-Dh480,000)
Compensation and benefits manager (Dh310,000-360,000)