Because of employment contracts, domestic helpers in Hong Kong are guided as to the amount of their salary, the identity, and location of their employers.
However, we've all known the abuses experienced by our OFWs abroad. Because Filipinos are naturally compassionate, they are easy prey to abusive employers.
For instances, an employer asks her helper to help her mother living in another flat because she is alone. Because the Filipina domestic helper felt pity for the old lady, she agreed with the request of your employer.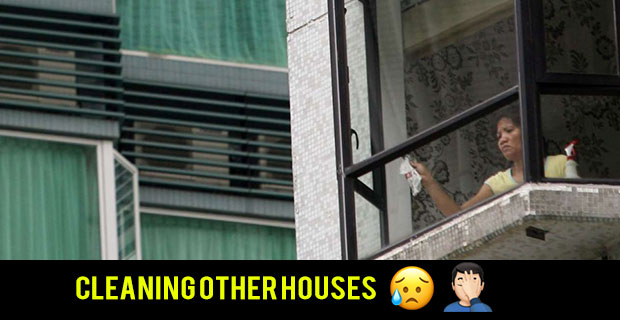 This request sometimes can lead to another one. The next thing you'll know, you're already cleaning someone else's house. Though this is an act of free will, this is a clear violation of the law.
Working in another address other than the one stated in the contract is nonetheless, illegal.
So the next time your employer asks you to clear or do chores in someone else's house, even though it's her relatives, learn to say no. Tell them that it is not defined in your contract which means that it will violate the law.
If your employer threatens to fire you for not following their orders on this matter, make them understand that you are only following the law. State that the Immigration Department is currently very strict with regards to following this certain rule.
In case you employer actually fires you for refusing to work in another address, never worry! You can still get your full pay, with all the benefits as stated by your contracts like air ticket, travel allowances, and wages in the line of notice.
You can then ask the Immigration Department to give them special consideration and allow you to apply for a change of employment even without leaving Hong Kong. State that the grounds for termination of the contract was the refusal to obey the order of your employer to work illegally.