For Overseas Filipino Workers (OFW), being away from their families is the hardest thing they have to do.  Luckily, in the absence of family, they were able to establish friendship in meeting new friends whom they can consider later on, like their own family.
Loneliness and homesickness are among those sacrifices and difficulties that OFWs had to endure while being away from their families just to be able to earn and provide a better future for them.  But with good friends around whom they can stick with through good times and bad times, heavy workloads will seem much lighter and easier while bearing in mind the real purpose of working abroad.
A former OFW named Fely Canteros Ramiso had voiced out her sentiments on social media for missing her co-workers whom she considered her real friends while working as a cutter in a dress shop in the United Arab Emirates (UAE).
In her Facebook post, Fely shared a picture with her friends as they enjoy their meals together using newspapers which served as their placemat while sitting comfortably on the floor.  Sad though, she expressed feeling lonely for not seeing them for quite a while.  Apparently, they had an agreement that they will still take time to see each other when they go home to the Philippines but it did not happen.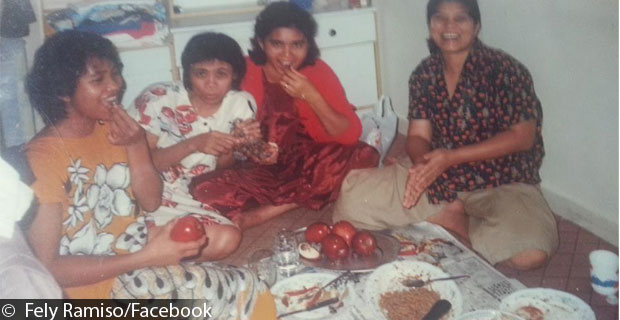 Fely then expressed being disappointed that her friends somehow did not fulfill their promise which until now, they haven't seen each other.  However, Fely is still hoping that one day, they will be reunited as they reminisce their happy memories while working as OFWs.