Just conceal my identity and let me be known by the name of Fighter Woman.
I arrived here in Taiwan last August 16, 2017, as a Caretaker. But upon reaching the house of my first employer, I was not in a good situation already. If I will look back, I think I already endured a lot of hardships here in Taiwan.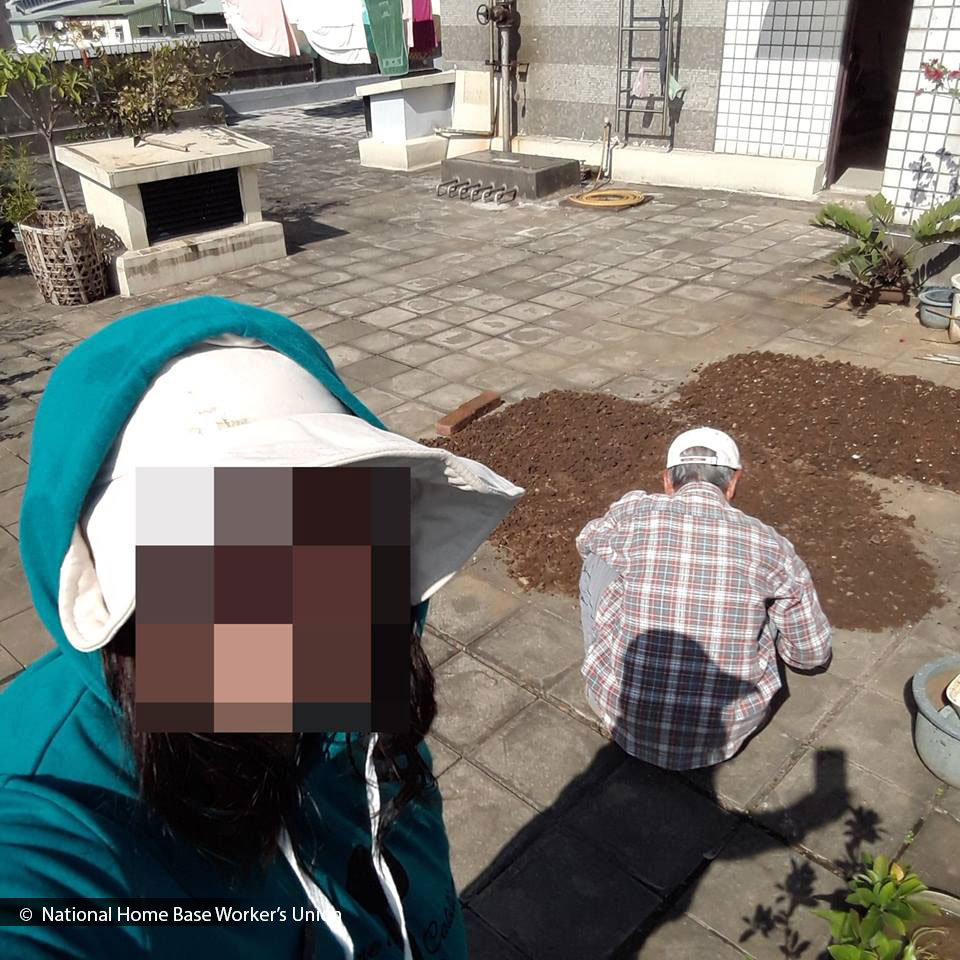 First employer:
Farming Job: Instead of taking care of an elderly, my job here was farming. Since I was not then aware of the situation of the migrant workers here in Taiwan, I just endured all the hardships of my work here.
My routine is to go to the farm, plant and harvest the vegetables, clean the farm, and cook lunch boxes to be sold.
Since I did not endure the difficulty of the job, I informed my broker about my situation. I was eventually transferred but to a worse situation than my first job.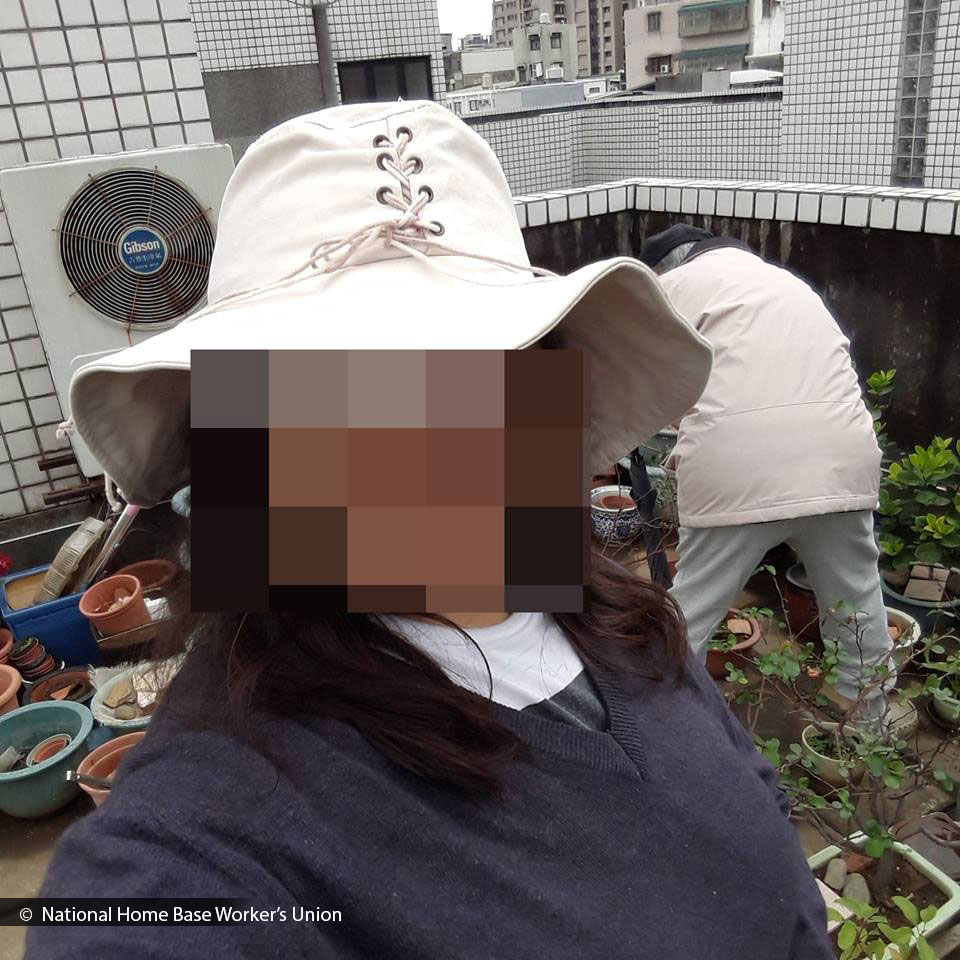 Second Employer:
Cleaning five (5) houses: Though I was relieved from my work from my first employer, I was brought to my second employer and had to go to different houses. With the number of houses that I had to go, I became braver while traveling. I suffered from overworked by my second employer but I had no choice but to follow their orders. I had to clean five (5) houses, till the soil and plant. I also had to do other kinds of unusual works here.
What is most shocking was when my employer sold me to another broker as if I was a commodity. I thought this was only happening in the Middle East, but this kind of activities also happen here in Taiwan.
Since I cannot tolerate what they were doing to me, I tried to report it to 1955. With God's grace, I was pulled out from my employer and was brought to Hsinchu Shelter. In the shelter, I learned more about my rights as a worker and I joined different rallies to fight for the cause and rights of all the workers.
I had a new employer and I thought everything was going to be fine because my employer treated me well. I thought my hardships from my former employers would be put to end already.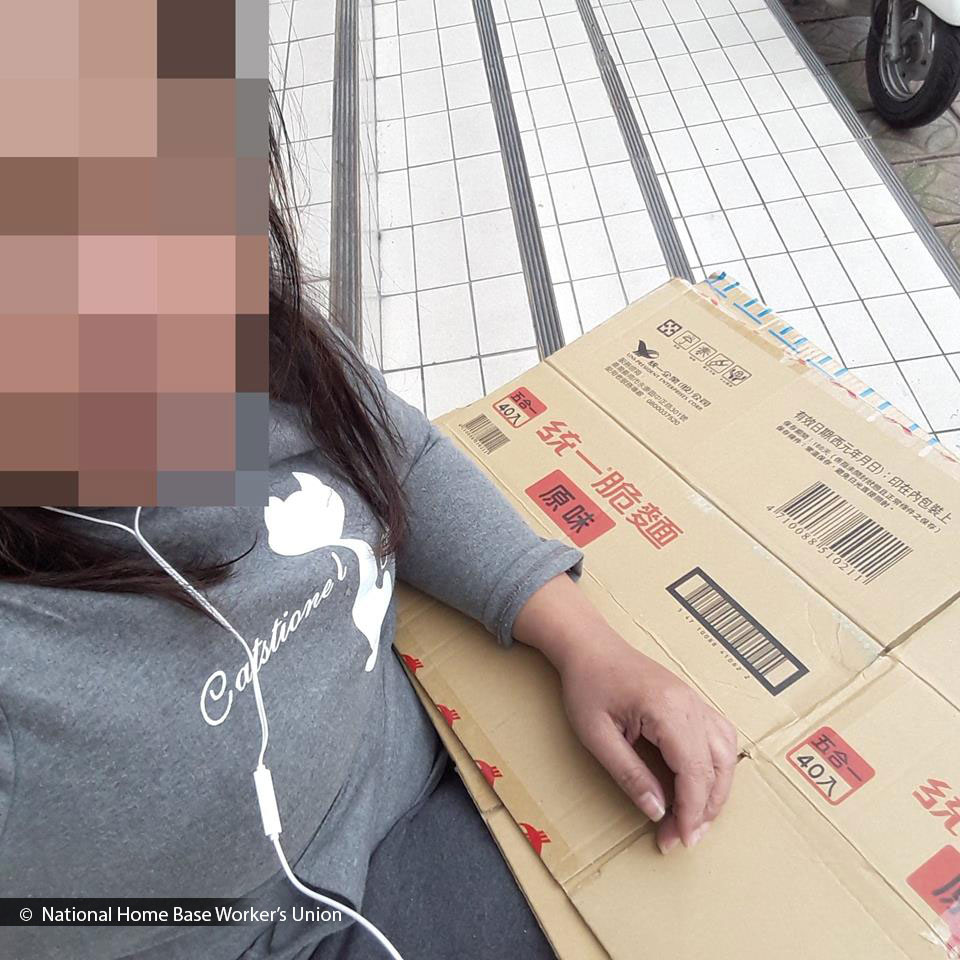 Third Employer:
I thought that when I was brought to the shelter, there would be hope that I would not experience what I had from my first two employers but my third employer was much worse.
The older sister of my male employer has an unpleasant attitude. Even though she does not stay with us in the house, she would come every day to visit their mother. It could have been okay if she would just visit, but the problem is, whenever she is in the house, she always yells at me and physically hits me. I don't know the reason why she's always angry.
The most recent incident of her attack against me was last March 21, 2018.
Here's what happened.
1. Physical Harassment:
I only stayed for 2 months and 4 days in my employer when I decided to leave.
Ever since I arrived in my employer's place at New Taipei, I already suffered different kinds of abuses. But since I badly need to have a job, I endured everything, but I realized that I cannot finish working for 3 years because of the physical harm that I have experienced.
There are a lot of incidences that Amah and her daughter would physically harm me but I tried to endure it. I experienced being hit by the glass of milk of Amah and being hit by anything that Amah can take hold of. Meanwhile, Amah's daughter would often spank me in the face without any reason at all, she would also shout at me every day. I cannot remember anymore that dates when she harmed me, only those that were really severe.
Here are some of the things that I remembered:
February 26, 2018: While I was changing Amah's pants because she peed on her pants, the doorbell rang. Since I was not able to open the door right away, her daughter was already yelling outside. She was calling my name. She kept on shouting that's why I decided to leave Amah even though I was not yet done cleaning her. When I opened the door, she suddenly grabbed my hand causing it to be wounded and scratched.
March 14, 2018: Amah would often like to eat even if it's not yet time for her meals. I informed my male employer about Amah's situation and he just told me "MAKE YOUR OWN STRATEGY TO LIE TO AMAH, BECAUSE AMAH ALWAYS WANT TO EAT, SO LET HER FORGET TO ASK FOOD". That's why on that day, I told Amah that there was no rice at home so she wouldn't ask for food even if it's not mealtime. But Amah told her daughter about what I said, that's why I was scolded by her daughter telling me why I had to lie to Amah. After that, she hit me in the neck which got wounded.
March 21, 2018: at quarter to 4:00 PM, Amah's daughter was shouting at me while I was cleaning Amah in the toilet. I just allowed her to talk. After cleaning Amah, I got some hot water to put some at Amah's mineral water inside her room. While I was on the way to the room, the daughter confronted me and told me that "Amah's medicine is due to be taken at 3:30 PM and not 4:00 PM." She suddenly grabbed my hand where I was holding the hot water and threw it on my shoulders. When I felt the heat, I shouted in pain and also peed on my pants.
Because of what happened, I called up 1955 and they helped me call the Police.
It was a blessing that the Police who assisted me was very kind and helped me file a case against my employer. One good thing also was that I had a friend from SPA Shelter and they assisted me until the Mediation meeting and also SPA Team helped me look for a lawyer for my hearing this coming June 15. I am very grateful because there are people like them who are very helpful to people like me here in Taiwan.
May this serve as a lesson for those who are like me who don't know their rights. It is for these events in our lives as workers that we must know what our rights are, so that should anything happen to us, we know what to do against those employers who are abusive and that we can also defend ourselves to them.
Her story is posted below :