For OFWs, OWWA has allocated a budget and certain programs that can provide financial assistance. OFWs who have been members of the Philippine government agency for at least ten years, but have not received any benefits, may become eligible for the OWWA Rebate Program.
Overview
The OWWA may be able to offer rebates to members who have never used any government program benefits from the said agency. Depending on the number of contributions a member has made, he or she will receive a rebate. Even if the OFW has already passed away, dependents and beneficiaries may still be eligible for the rebate.
Qualifications
Here are the qualified applicants for OWWA Rebate Program:
OFW Members for 10 years or more
The member who have paid 5 or more membership contributions
If you are an OFW who hasn't received any OWWA program
Qualified OFW deceased beneficiary
Requirements
Make sure to secure these requirements when applying for OWWA's Rebate Program:
Membership ID
Government-issued ID
Active Bank Account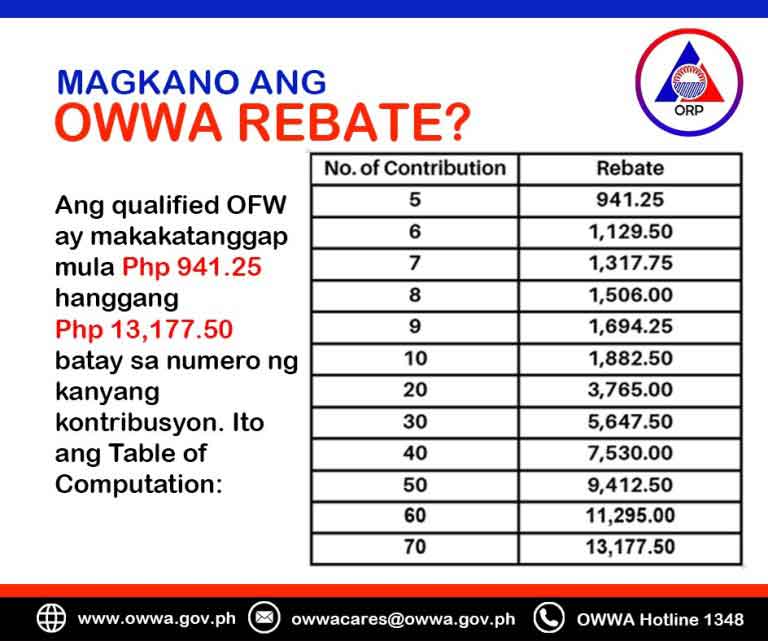 How To Apply For OWWA Rebate
Please visit OWWA Rabate programs for details 
( Sorry Link is not working as of now ) 
The following is a step-by-step guide to applying:
Step 1: Start by visiting www.owwa.gov.ph on your browser
Step 2: Go to http://rebate.owwa.gov.ph/ or click the OWWA Rebate Program banner.
Step 3: You can see if you are eligible for the rebate by filling out the rebate form. It is important that you provide all the information you are required to provide.
Step 4: Based on the information you entered, you will see the rebate amount on the screen.
Step 5: The next step is to make an appointment by selecting a time, date, and place where you would like to claim your rebate. When you confirm your appointment, you will receive an SMS code on your mobile phone.
Step 6: Present your appointment code, which was sent via text message to your mobile phone, on the day of the appointment.
Step 7: Provide the bank account where the OWWA rebate will be deposited.