Through the cooperation of PhilHealth and Overseas Workers Welfare Administration (OWWA), a new program that increases the financial assistance for OFWs abroad was first introduced last Thursday. The program is named as MEDplus and was approved since September of 2015.
About 2.4 million overseas Filipino workers (OFWs) are set to receive additional financial medical assistance from the Overseas Workers Welfare Administration (OWWA) and PhilHealth through a new program called MEDplus.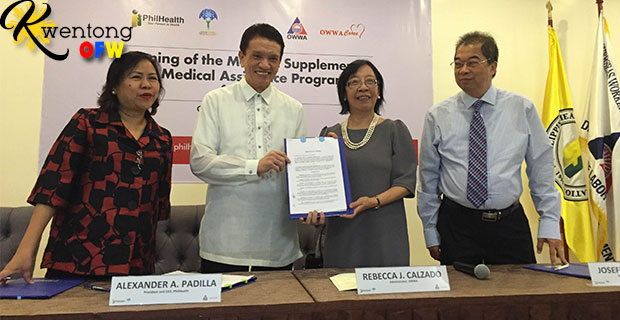 Members of participating organizations, OWWA and Philhealth, can all receive the accompanying benefits. This financial assistance is set to be acquired by OFWs who are hospitalized for a long time due to some ailments.
Rebecca Calzado, Philhealth President and CEO, said that there's a great chance that these OFWs cannot work properly or their work is unstable due to their ailments. They are the people who generally need assistance.
MEDplus is set to grant the benefits to its PhilHealth members who are under the case rate system, providing maximum financial aid of P50,000. Diseases included in the MEDplus program includes encephalopathy, heart disease with myocardial infarction, chronic disease and 300 other medical procedures.
OWWA was able to release P6.9 million out of its 289 members and P103.5 million for the kin beneficiaries of its 771 deceased members starting from January until April of 2016. The budget was produced out of the $25 contribution of every member.
The implementation of this PhilHealth program will be on September or October. Benefit claims notice issued by Philhealth to OWWA is required to avail the aid. Members confined in the hospitals abroad may course their medical records through the help of any family member in the Philippines.