Repatriated Overseas Filipino Workers can now recover financially through the "Balik Pilipinas, Balik-Hanapbuhay" Program of the Overseas Workers Welfare Administration (OWWA).
Joan Sandrita went to work at the United Arab Emirates as domestic helper last 2012 to provide financial support for her family in the Philippines. She was still 24-year-old that time but was forced to work hard for her family.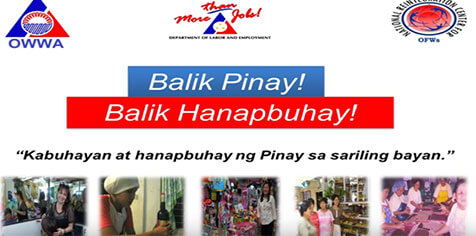 According to her, she was treated well from the start but the good treatment did not last long. She was maltreated and abused by her Arab employers. She suffered bruises all over her body and was locked inside her room. She managed to escape after her employer forgot the house keys.
Sandrita belongs to the hundreds of OFWs who suffered abuse from their foreign employers. These incidents prompted the government to create a "Balik Pilipinas, Balik-Hanapbuhay" Program. This aims to provide the financial needs of repatriated OFWs.
OWWA 3 Reginal Director Ma. Lourdes Reyes said that they are allocating funds for the said program every year.
Beneficiaries of the Program
Illegal Recruitment Victims
Victims of Abuse
Victims of Human Trafficking
Victims of Illegal Recruitment
Maltreated or Distressed Workers
Priority Projects
Massage
Cosmetology
Reflexology
Home Spa
Bath soap, scented oils, skin/health care products and herbal medicine production
Handicraft such as native slippers, bags, souvenir items, accessories and fashion jewelries.
Repair and Maintenance of Personal accessories such as mobile phones and bags
There are currently 50 OFWs benefited from this program in Pampanga which was organized by OWWA and coordination of Villar Sipag Foundation.
According to Las Pinas Rep. Mark Villar, it is very important to establish their own business in the country and this skills program will help them to do so.
Rep. Mark Villar is also pushing the establishment of Department of OFWs to mainly focus on the needs of every OFW around the world.
Watch below :