Why does one need to leave her own country to work abroad, only to be mistreated on a land she never own?
Working abroad as a domestic helper has been one of the most common occupation that women around the world apply for.
Among the countries, Hong Kong is one of the destinations where most domestic helpers are hired and demanded.  With its high-rise buildings and properties, domestic helpers are attracted to set their foot on its land.
In fact, for 350,000 maids that Hong Kong hires, mostly are from Philippines and Indonesia.
The sad thing though, according to the Mission for Migrant Workers (MFMW), there are three out of five domestic helpers that are mandatorily made to stay in a place that is unsafe, risky and uncomfortable.
Based on the survey which their group has conducted, 43% out of the 3,000 respondents  complained about not being able to be given a convenient and safe place where they could stay.
The dream of landing into a decent job that will provide an income for their families  became a turmoil as they were forced to sleep  in toilets, closets,  basements, laundry areas, storage rooms and kitchens, among some places, which were not  an ideal place to spend their nights after a full day's work.
Norman Uy Carnay, lead researcher shared to Thompson Reuters Foundation, "It is appalling we are allowed to do this to a domestic worker.  This is modern slavery."
"Most of this accommodation doesn't even approach basic human decency.  Hong Kong is a
World-class city, it shames Hong Kong to have this kind of treatment of its migrant workers," he added.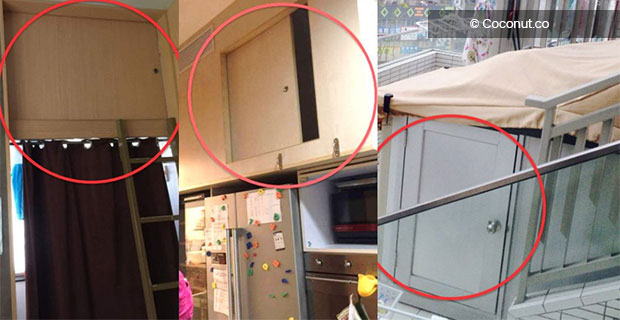 On the other hand, the 57% of domestic helpers being surveyed said that, they have their own rooms but  it also serves another purpose like it is a storage, a laundry area or a room for pets.
And fourteen percent among them said that they have no ready access to comfort rooms.
Considering this miserable condition, the workers are left with no option but to continue working for the sake of providing income to their families.
An unidentified helper shared her sentiments saying, "We agree because we need to earn money.  If we disagree, of course, we're sent to the agency or we're sent to go home, right?"
However, the Hong Kong's Labor Department encouraged these workers to make known their complaints so that they can file a case against their employers and demand an action for domestic violence.
At present, the only rule that is being implemented is that maids or helpers should not be allowed to sleep in the corridors or other areas with no privacy and sleeping with someone of opposite sex.
It's just good to know that after the case of Erwiana Sulistyaningsih, an Indonesian maid mistreated by her employer who acquired burns from boiling water, security provided for domestic helpers and looking after their welfare has become more rigid.
Source : coconut.co