Netizen Michelle Bangcaya Oriel recently uploaded on her social media account an incident that occurred in Maria Reyna ng mga Apostoles Parish Church. The amateur video shows a man allegedly with a huge knife in his hands walking towards the church altar while Father Rizalino Jose's homily is ongoing.
The incident happened at 6:00 in the morning amidst the homily.
In a bid to stop the man on his tracks, a lay minister tried to approach the assailant, but the man taunted as if he was going to stab the minister which prompted him to back away.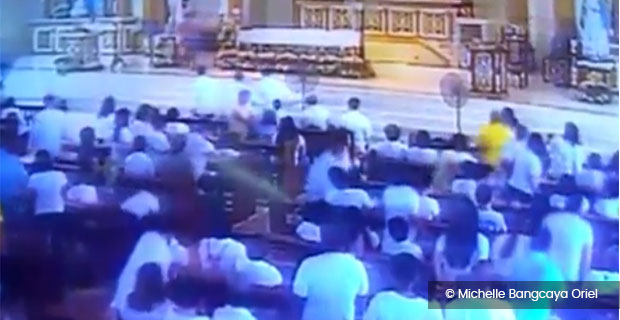 According to the netizen, "Naglakad ang lalaki palapit kay father hinarap nya ito at pinagsasaksak ng maraming beses," (The man was walking towards the priest, then faced him and stabbed him many times).
Miraculously, the priest survived the attack, all thanks to the large Bible he was holding in his hands. Church goers scrambled in fear when the incident happened, as per the netizen.
According to her social media post, after being apprehended by church goers themselves, the man was found out to be mentally ill.
Luckily because of divine guidance, intervention and faith the priest was spared in the ordeal, stated the netizen.
Since its posting the video has reached over a thousand likes.