Magnitude 7.2 earthquake hit Pangyan, Sarangani, Davao Occidental at around 4:23 early morning, according to the Philippine Institute of Volcanology and Seismology (PHIVOLCS).
It was originally a tectonic by origin with a depth focus of 57 kms.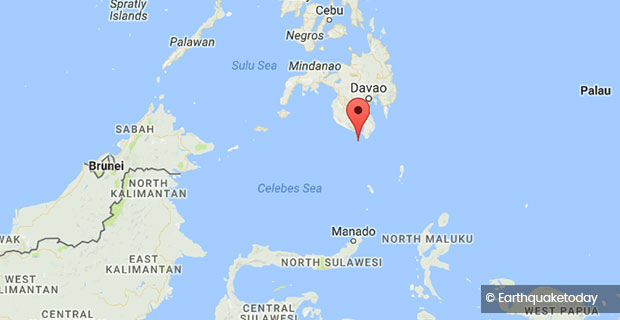 Warning were raised by PHIVOLCS for possible aftershocks and tsunami.
The tremor reached Intensity V in:
Davao Occidental
Ballot Island
General Santos City
Koronadal City
Don Marcelino
Santa Maria, and
Jose Abad Santos
Sultan Kudarat
Sarangani Province
Glan
Alabel, and
Malapatan
Intensity IV:
Davao City
Zamboanga City, and
Cotabato City
Intensity III:
Intensity II:
Sea Level Disturbance Advisory
Sea Level Disturbance advisory was also issued by PHIVOLCS, raising alert to certain areas for strong current, rapid rise and fall of sea-waters.
"Based on tsunami wave models and early tide gauge records of the tsunami in the Philippine Sea, coastal areas in Philippine provinces fronting the Celebes Sea are expected to experience wave heights of less than one meter above the normal tide levels," PHIVOLCS said.
The advisory was later canceled at around 6:45 a.m.
UPDATE:
In line with the recent major earthquake, the Malacanang Palace vowed to help those affected Mindanao provinces.
Presidential spokesperson Ernesto Abella advised the residents not to panic and be alert at all times.
"We ask our people, particularly residents of Sarangani, to stay calm and yet remain vigilant and alert," Abella said.
"Our disaster officials are now conducting rapid damage assessment an
d we assure those affected that immediate assistance will be provided. We will be giving updates as more information becomes available," the Presidential spokesperson added.
Meanwhile, netizens shared on their social media accounts several images of the recent destructive earthquake.
Sources : GMA | GMA2 | Earthquaketoday