The Government of the Philippines has suspended the deployment of Overseas Filipino Workers (OFW) in Qatar after Saudi Arabia, Bahrain, Egypt, UAE, Yemen and Maldives cut ties over alleged terrorism.
The rift was allegedly triggered due to the $1 billion worth of ransom paid by Qatari government to free members of its royal family kidnapped by Al-Qaeda. Arab countries then started to accuse Qatar for allegedly funding terror.
According to the Department of Labor and Employment (DOLE), there will be a suspension of deployment of OFWs going to Qatar immediately effective today, June 6.
"Effective today (June 6), we have ordered the suspension of deployment of OFW in Qatar. This is for us to assess the situation because there are so many wild rumors going around," announced by Secretary Silvestre Bello during a press conference.
"Kasi we are foreseeing possible problem in Qatar. Like for example we know for a fact Qatar does not produce its own food. If anything happens and they ran out of food and food riots take place, definitely, our OFWs will be the first victims. Kaya kailangan lang may preparatory measures to meet the possible exigency," he further added.
However, Bello denied reports of food hoardings and riots which was first reported by Qatar's Labour Attaché.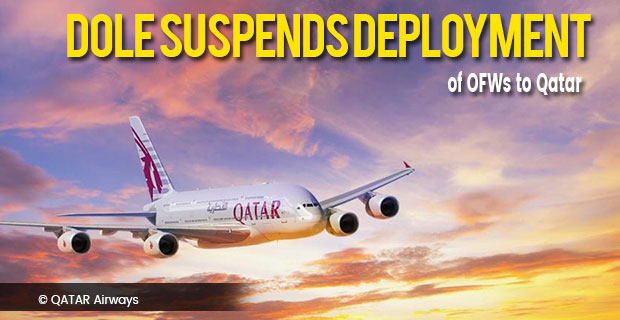 READ ALSO : Middle East Countries Removed Ties With Qatar, Filipino Migrant Workers Gravely Affected
"Although late last night and early this morning I was able to talk to our labor attache Dec Dicang and he informed me that there are no food riots yet as rumors being spread around. Although I told him that as a preparatory measure, we should advise our OFWs in Qatar and our Polo office to start making stock of food provisions,"
He also clarified that the suspension is only covering those who are newly hired and returning OFWs.
"We stopped all processing and even those who were scheduled to go. Sorry, but we have to suspend first the deployment."
Bello is requesting all recruitment companies to coordinate accordingly so as to improve and strengthen the protection of OFWs in case the rift gets worse.
There are currently 141,000 OFWs in Qatar, according to DOLE. These OFWs are employed as technicians, nurses, engineers and others. They will furthermore assess if there is a need to repatriate these migrant workers.
"We still have to study the situation, but even before this time we have been sending some augmentation team not only to Qatar but also to the other Middle East countries to meet any possible incidents."