Undocumented Filipinos are the first ones affected by the recent diplomatic crisis in Middle East. How are they coping up?
Lorna, one of the many undocumented Filipino in Assir Region, Saudi Arabia, is set to go home to the Philippines on board Qatar Airways due to the Amnesty program of Saudi. Unfortunately, the aircraft which was supposed to lead her back to the Philippines never reached Saudi Airport.
Starting tomorrow, all flights of Etihad Airways, Fly Dubai and Gulf Air going to Qatar while the Saudi-Qatar border will be closed. It is expected to affect Filipinos wanting to work there.
Posted by Bandila on Monday, June 5, 2017
The Philippine Embassy in Qatar will release a public advisory hours from now regarding the matter.
Overseas Filipino Workers in Qatar also refused to comment on this issue.
Middle East countries Saudi Arabia, UAE, Bahrain and Egypt recently cut ties with Qatar due to terrorism. UAE gave 48 hours for Qatar's diplomatic mission to leave the country after "Doha's several policies which destabilizes the security and stability of the region and manipulates commitments". Furthermore, Qatari citizens were obliged to leave UAE within 14 days. Emiratis were also banned from going to Qatar or even passing through it.
Riyadh, on the other hand, closed its borders to Qatar by means of land, air and sea to "protect its national security from the dangers of terrorism and extremism".
Etihad Airways announced that their flights to and from Doha will be suspended, effective Tuesday, 2:45 p.m.
Bahrain also cut ties with Qatar because of "shaking the security and stability of Bahrain and meddling in its affairs".
Lastly, Qatari troops in Saudi Arabia is set to be pulled out from their ongoing Saudi-led coalition against Al Houthi militia spreading terror in Yemen.
Watch below video : 
Updated : Advisory from Philippine Embassy of Doha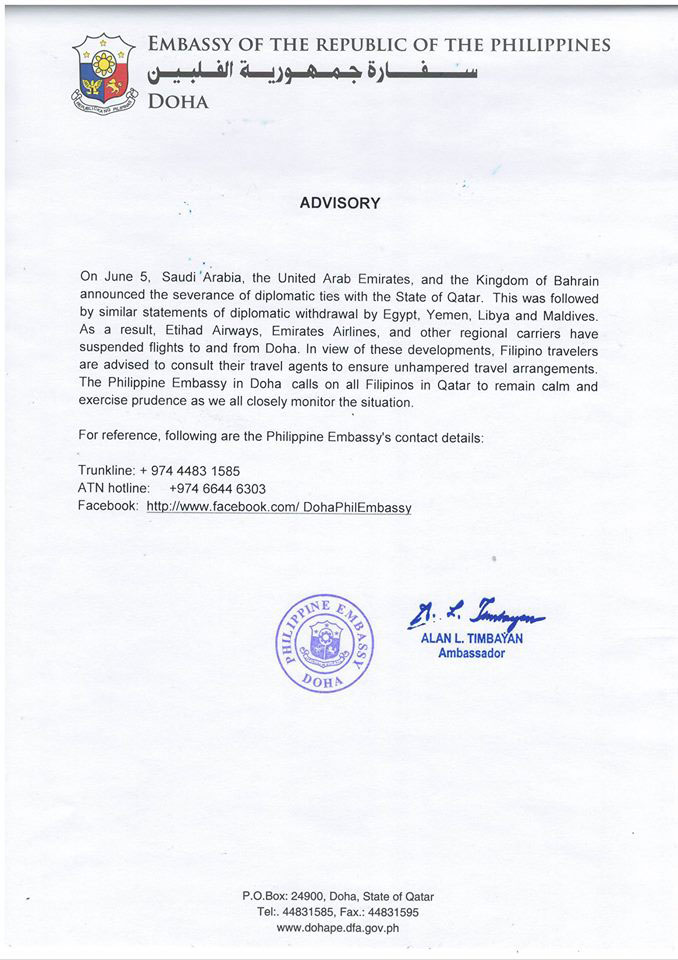 Please see the full advisory statement below:
On June 5, Saudi Arabia, the United Arab Emirates, and the Kingdom of Bahrain announced the severance of diplomatic ties with the State of Qatar. This was followed by similar statements of diplomatic withdrawal by Egypt, Yemen, Libya and Maldives. As a result, Etihad Airways, Emirates Airlines, and other regional carriers have suspended flights to and from Doha. In view of these developments, Filipino travelers are advised to consult their travel agents to ensure unhampered travel arrangements. The Philippine Embassy in Doha calls on all Filipinos in Qatar to remain calm and exercise prudence as we all closely monitor the situations.
For reference, followring are the Philippine Embassy's contact details:
Trunkline: +974 4483 1585
ATN hotline: +971 6644 6303
Facebook: https://www.facebook.com/DohaPhilEmbassy/
Sources : DohaPhilEmbassy | Bandila | ABS-CBN News