For all domestic helpers working abroad, their day-off at work is something they really look forward to.  Often times, it's the best time to get in touch with their families and loved-ones in the Philippines thru a phone call or they would spend it going to the mall, meeting their "kababayans", watching a movie, or anything that would be  considered a "ME" time, as a break for hard day's work with their employers.
But how you can you say that you really enjoyed your off at work if you knew there were tons of workloads waiting for you when you come back?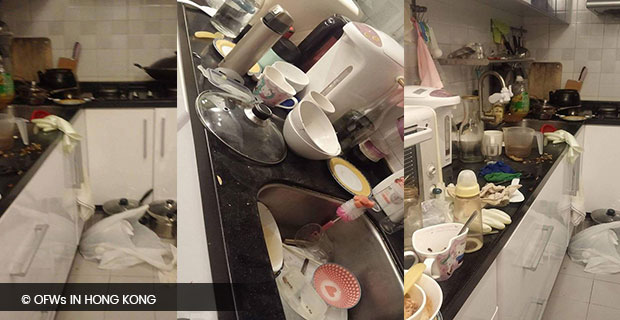 This is a familiar situation for an OFW like "Mocha".  A sentiment which she shared on a Facebook page showing how frustrated she was when she went back to her  employers home  after her day-off.
She said she cleaned the house before she left. Then the time she went back, the mess again has piled up!
This is a common scenario for OFWs helpers.  For them, it seemed like they didn't have their day-off at all.
I wonder if their employers know what "day-off" means.
Can we just use "no work please," or "give me a break" so they can easily understand?
Just a thought.
It's not really easy being away in our native land.
I hope these domestic helpers can get to enjoy the rest which they deserve after those hard work days.