Cayetano Debunks Issues of Expensive 10-year Philippine Passport During A Forum in HK
The implementation of the new Philippine passport which is valid for 10 years is set to benefit Overseas Filipino Workers. Newly appointed Foreign Secretary Alan Peter Cayetano tagged it as "cheaper and faster.
The statement of Cayetano was announced at the Philippine Consulate during a public forum in celebration for the 20th year of Hong Kong's Handover to China, addressing about 250 Filipino community leaders present in the meeting.
Cayetano also set aside the previous claims that this new passport will be a lot expensive, doubling the current fee of HK$480. Nonetheless, Cayetano refused to reveal the exact cost of the new Philippine Passport, as they are still negotiating the amount.
READ ALSO : OFW Warnings : e-passport with altered materials
On May 16, the house of Congress approved a bill extending the extension of validity of the Philippine Passport from the previous 5 years to 10 years. The bill has now reached the Office of the President for formal signing before it becomes regulated as a law.
Furthermore, this new passport can only be issued to the public after the Implementing Rules and Regulations will take effect.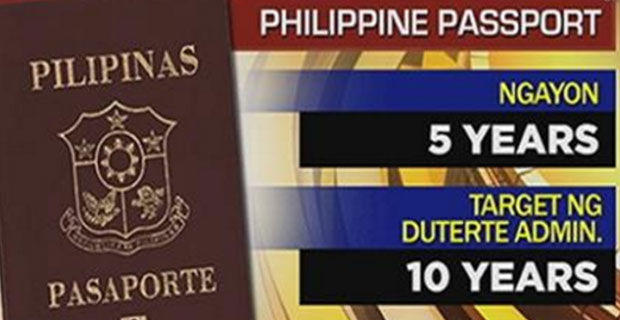 Cayetano also discussed that this new passport will have a so-called 'smart cart', embedded with important details of the passport holder. The renewal of this passport is also simplified as you do not need to go forth the same application process again. Nonetheless, applicants under 18 years old are excluded from this 10-year passport validity.
Cayetano also brought two additional data-capture machines to speed up the passport processing. As of the moment, the Philippine Consulate in Hong Kong only has four data-capture machines that can process 220 applications.
When asked about the offloading of airports with OFW family members, Cayetano responded that the issue shall be discussed with Justice Secretary Vitaliano Aguirre.
Source : SunwebHK