Labor Attache Jalilo dela Torre has sent a letter on August 13 to PAMIOFW Management Service and Insurance Intermediaries, Inc., an insurance broker in Manila after rejecting a migrant worker's claim for subsistence allowance as mandated by law.
According to PAMIOWF, the claim of Mariel F. Tadalan should have been filed while her case was ongoing. It was noted that Tadalan had won a labor case against her employer in Hong Kong and had claimed a total of $5,568 last July 7 at Hong Kong's Minor Employment Claims Adjudication Board.
Attache Jalilo de la Torre gives a Certificate of Appreciation to Susan Ople for holding the Writing as Therapy workshop at Polo Hk.-The SUN
But aside from the amount that she was able to claim, pursuant to R.A. 10022, Tadalan should also be entitled to a subsistence allowance from her Philippine Insurance company over the period that she has a labor case in Hong Kong.  For her case which ran for three months, she should receive at least US$300 as her subsistence allowance.
The said claim which the OFW was asking from her Philippine insurer was prior to the advice of the Philippine Overseas Labor Office (POLO) who also testified that she was under litigation at that time with her former Hong Kong employer.  Unfortunately, her request for claim has been denied on August 11.
The broker's letter was addressed to Tadalan's Philippine agency, Angelex Allied Agency to quote, Please be informed that subsistence allowances (sic) are given if an OFW has an ongoing case or litigation abroad. The insurance company must be notified from the time the case was docketed or from the time that there is a case preceding. In the case of Tadalan the claim was filed to us after it was settled.
However, dela Torre claimed that the response was unprecedented and doesn't make sense.
He stated, "The reason for the benefit is to afford the worker some kind of temporary relief which can bridge her over some difficult times while the case is pending. It is not diminished by the fact that the case had already been settled or had been resolved in favor of either worker or employer."
He also defended Tadalan saying the law was unknown to many migrant workers because the law was not fully disseminated.  So most likely, they will not be able to file such claim accordingly for being focused on their case against their employers in court.
There is nothing in the law nor its implementing regulations, which requires the worker to file their claim while the case is pending or while the case has not been settled yet. To impose a requirement that is not called for by the law nor its implementing rules is egregious and must not be tolerated, dela Torre stated.

As provided by Section 37-A (e) of RA 10022, a subsistence allowance of at least US$100 per month for a maximum period of six months is payable to a migrant worker "who is involved in a case of litigation for the protection of his/her rights in the receiving country".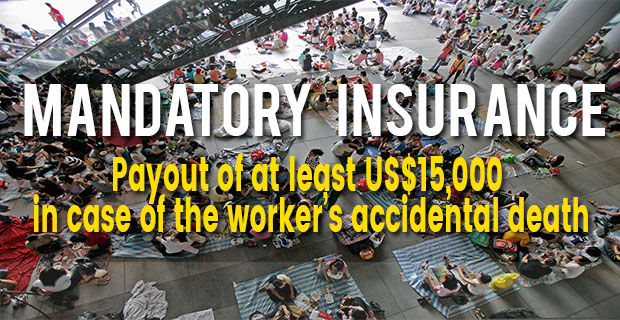 To support the claim, a labor attache should issue a certification stating the name of the migrant worker, the name of the employer and the nature of the case in full details. In his absence, a certificate duly signed by an embassy or consular official will do.
Here is what the law provides, to wit:
RULE XVI
COMPULSORY INSURANCE COVERAGE
FOR AGENCY-HIRED WORKERS
Such insurance policy shall be effective for the duration of the migrant worker's employment contract and shall cover, at the minimum:
(a) Accidental death, with at least Fifteen Thousand United States Dollars (US$ 15,000.00) survivor's benefit payable to the migrant worker's beneficiaries;
(b) Natural death, with at least Ten Thousand United States Dollars (US$ 10,000.00) survivor's benefit payable to the migrant worker's beneficiaries;
(c) Permanent total disablement, with at least Seven Thousand Five Hundred United States Dollars (US$7,500) disability benefit payable to the migrant worker. The following disabilities shall be deemed permanent: total, complete loss of sight of both eyes; loss of two limbs at or above the ankles or wrists; permanent complete paralysis of two limbs; brain injury resulting to incurable imbecility or insanity;
(d) Repatriation cost of the worker when his/her employment is terminated by the employer without any valid cause, or by the employee with just cause, including the transport of his/her personal belongings. In case of death, the insurance provider shall arrange and pay for the repatriation or return of the worker's remains. The insurance provider shall also render any assistance necessary in the transport, including but not limited to, locating a local and licensed funeral home, mortuary or direct disposition facility to prepare the body for transport, completing all documentation, obtaining legal clearances, procuring consular services, providing death certificates, purchasing the minimally necessary casket or air transport container, as well as transporting the remains including retrieval from site of death and delivery to the receiving funeral home. This provision shall be without prejudice to the provisions of Rule XIII of these Rules and Regulations.
(e) Subsistence allowance benefit, with at least One Hundred United States Dollars (US$100) per month for a maximum of six (6) months for a migrant worker who is involved in a case or litigation for the protection of his/her rights in the receiving country.
(f) Money claims arising from employer's liability which may be awarded or given to the worker in a judgment or settlement of his/her case in the NLRC. The insurance coverage for money claims shall be equivalent to at least three (3) months salaries for every year of the migrant worker's employment contract;
(g) Compassionate visit. When a migrant worker is hospitalized and has been confined for at least seven (7) consecutive days, he shall be entitled to a compassionate visit by one (1) family member or a requested individual. The insurance company shall pay for the transportation cost of the family member or requested individual to the major airport closest to the place of hospitalization of the worker. It is, however, the responsibility of the family member or requested individual to meet all visa and travel document requirements;
(h) Medical evacuation. When an adequate medical facility is not available proximate to the migrant worker, as determined by the insurance company's physician and a consulting physician, evacuation under appropriate medical supervision by the mode of transport necessary shall be undertaken by the insurance provider; and
According to THE SUN, the lawyer which they consulted had perceived that Tadalan's insurer perhaps rejected latter's claim thinking she was unaware of the worker's benefits as provided by RA 10022.
It could have been possible also that they thought Tadalan will not file such claims for lack of time and resources.
Apparently, legally speaking, an insurance company who does not comply with a rule that is mandated by law could be blacklisted or worse, its license can be revoked.  It is therefore necessary that the law should be strictly followed.