A Pinay overseas worker arrived alone at NAIA Terminal 1 on Monday afternoon.  The OFW was identified as Karsoma Utobarra who worked in Riyadh.
According to a report, Karsoma has been roaming around the airport for more than 4 hours without knowing where to go.  This caught the attention of airport transport Liaison Officer Suzette Nueva who was about to be off duty that time.
Nueva said she noticed that Karsoma seemed uncertain of her whereabouts when she saw her alone at the arrival area.  She was also following Nueva which prompted the officer to offer her a meal as she seemed to be very tired and hungry at that time.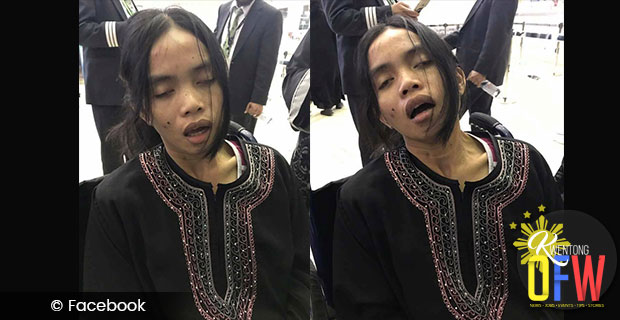 Upon their conversation, Karsoma was able to reveal some personal information which she used to contact her relatives and advise them of Karsoma's arrival.  Relatives rushed to the airport to fetch her.  However, in the course of their conversation, Nueva sensed that the OFW was mentally unstable.
Nueva learned that Karsoma hailed from Pagadian City and had previously left the country to work as a migrant worker in Kuwait.  Believing that the OFW would become better when she reunites with her family, Nueva helped Karsoma by purchasing an airline ticket so she can finally go back to Pagadian.
Karsoma's video went viral on social media the past few days after she was seen abandoned in a wheelchair at the Riyadh airport.
Netizens who saw Karsoma's video assumed that the OFW was unjustly treated by her employer which lead to her mental illness.  Moreso, with the love of her family around, hopefully she'll be back in her normal mental condition.
Facebook Post