A video posted on BBC Two's Facebook Page has recently featured Hong Kong as the world's busiest city on one such Sunday afternoon filled with domestic helpers who were mostly Filipinos.
According to the video, every Sunday, a lot of women were seen chatting and sitting in a public space in Hong Kong where they all gathered together to spend their whole day's off at work.
Apparently, the women showned on the video were mostly domestic helpers who had nowhere to go during their day off. As these helpers mostly doesn't have enough means to spend for shopping, they would consume their rest day bonding with their families and friends in a place where they can build cardboards and tents as their temporary shelter.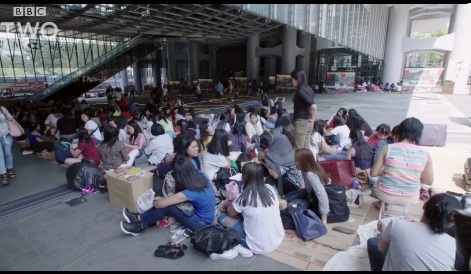 With many people gathering in one place, BBC Two's reporter said it almost looked like a shift building.  The reporter even said that it was his first time to see a place as crowded as that, full of domestic helpers in one of the main thoroughfares of the beautiful city of Hong Kong.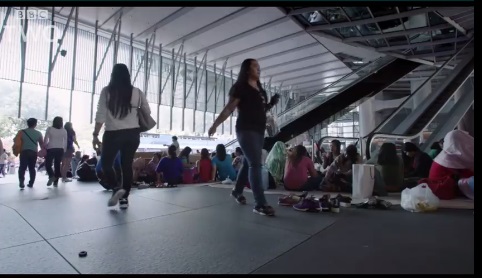 On one part of the video, the reporter was able to share the sentiments of overseas workers who some of them were abused and maltreated by their employers while some of them were overworked yet underpaid.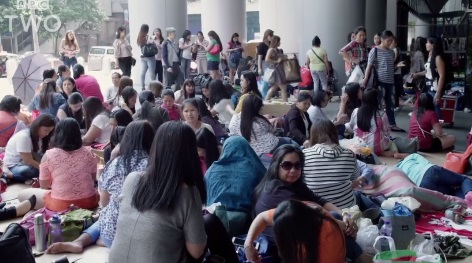 Nonetheless, the whole video itself showed how domestic helpers spend their day offs simply by meeting and chatting with their friends and relatives to ease the burden of working so hard for their employers for the whole week.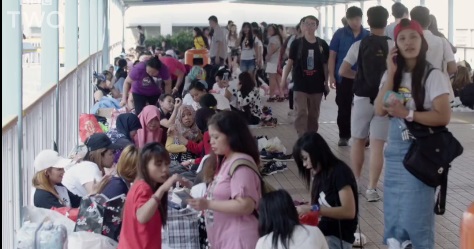 One domestic helper said that Sunday serves as their day-off where they normally spend it going to the church in the morning and going back to that place to spend the rest of the day.  When evening comes, they will go back to their respective employers to prepare for next day's work.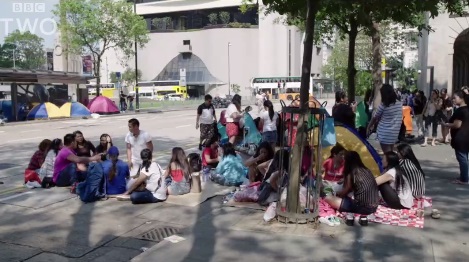 It has been said that there are about 300,000 domestic helpers working in Hong Kong, representing 5% of the total population of the city, which most of the helpers were Indonesians and Filipinos.
However, the video earned some negative feedbacks from netizens who said that some of the domestic helpers who were there were professionals and educated.  And that not all of the helpers have been abused by their employers and were underpaid, saying there are still a lot of good Hong Kong employers.
Watch it below : 
What happens when you only get one day off a week… but you literally have nowhere to go?

Posted by BBC Two on Wednesday, August 30, 2017