MANILA – Due to the increased reports of maltreatment and abuses, The House of Representatives' committee on overseas workers affairs has called for a temporary ban on the deployment of overseas Filipino workers (OFWs) to Kuwait.
This after the committee approved earlier this week Quezon City Rep. Winston Castelo's motion for a moratorium after receiving cases of distressed household service workers (HSW) in Kuwait.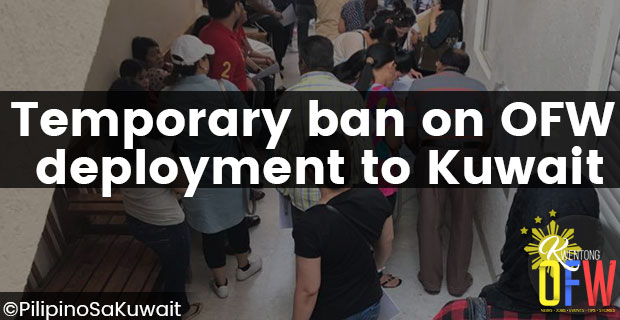 The House said the Department of Labor and Employment (DOLE) and the Department of Foreign Affairs had the mandate to implement the ban.
In the statement the committee said the deployment ban if enforced, could be lifted once the welfare and protection of OFWs in Kuwait are assured.
ACTS OFW Party-list Rep. Aniceto Bertiz III earlier filed House Resolution No. 558, which seeks an investigation into the "repeated demand of Filipino organizations in Kuwait for a ban or moratorium on HSW deployment."
In January, the DOLE said it was studying the implementation of a moratorium on the deployment of OFWs to Kuwait, following the execution of a Filipina worker.
Meanwhile, an American who helps distressed OFW in Saudi want to ban of sending domestic helper due to the same issue of maltreatment.
See his story below: