Lamma Island is a beautiful place located to the Southwest of Hong Kong Island.  It is the third largest island of Hong Kong with an area of 13.55 square kilometers.  However, with the beauty that the place possesses, people should be cautious as according to reports, snakes could be found in the island because of its mountainous and grassy places.
Last October 5, Lamma resident Cris with her sister Lolit and their friend  named Dolly were set to watch a lantern display at the beach of Lamma Island in celebration of the Mid-Autumn or Mooncake Festival.  Unfortunately, while they were walking through a grassy part near their homes in Hung Shing Ye Village, Yung Shue Wan, Dolly was bitten by a green viper snake.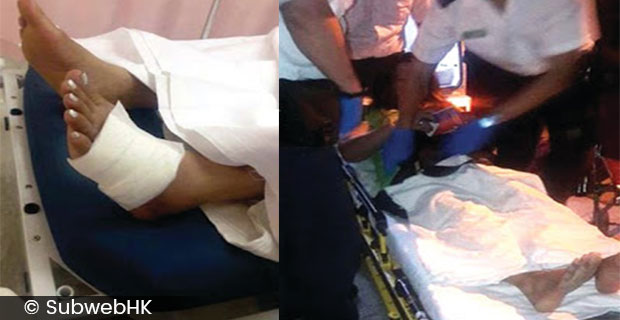 In an interview with THE SUN, Cris narrated what actually happened.
"My sister said Dolly was behind her as they walked down in the residential area , heading for the beach, when Dolly suddenly shouted out loud, saying she got bitten by snake. They (both) saw the green viper snake on the ground ready for a fight with no plan to run away. Both were in panic as the snake poison was setting off a reaction inside Dolly's body. My sister made her sit down and called for friends' help, including 911 (emergency service).
As a first aid treatment, Cris had tied the legs of Dolly to prevent the venom from spreading and poured alcohol into her wound while waiting for the ambulance.
Apparently, it was the second time that Dolly had been bitten by a snake as four years ago, she was bitten by a king cobra when she picked-up a $500 which she dropped on the floor. In fact, the reason why Cris could narrate the story vividly was because she was with her when that happened.
Meanwhile, when the ambulance came, Dolly was immediately brought to Lamma North clinic and was then airlifted by a helicopter to be brought to a hospital in Hong Kong Island where she was confined for a couple of days.
Cris also shared that she was worried as Dolly had allergic reaction to anti-venom medicine, making it harder for her fast recovery, thus; she was required to stay longer in the hospital.
While Lamma is a great place to live in because of its clean beaches and fresh air, Cris emphasized and reminded residents and those who might be visiting the beautiful island to be a lot more cautious with their surroundings as snakes were present in the island.