A man who was assumed to be an OFW who flew back to the Philippines and had just arrived this morning in NAIA Terminal 3 shared his unpleasant experience when he rode a taxi to bring him home.
According to the post shared by All About the Philippines Page on Facebook, upon arrival at the terminal, the OFW directly proceeded to the taxi station where units were waiting for passengers.
As he approached the line, a taxi driver asked him where he was heading and when the OFW said in Sauyo, Quezon City, the said driver offered his services since according to him, that was his way going to the taxi operator's garage.
While on board, the passenger noticed that the meter of taxi was registering fast so he asked how much was his bill already.  The driver then answered that unless the receipt be printed, he may not be able to tell how much was the passenger's total fare.
When they were approaching Qurino, Highway, just a few kilometers away from the passenger's destination, the driver said that his taxi run out of fuel and he can't bring him to Sauyo anymore. That time, the passenger was left with no option but to get off the taxi and asked for his bill.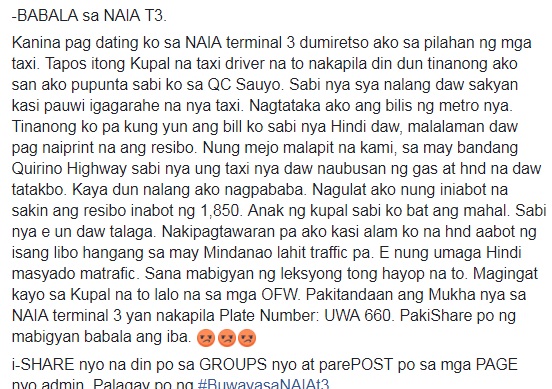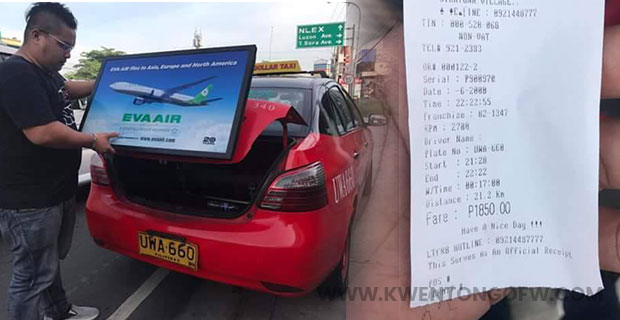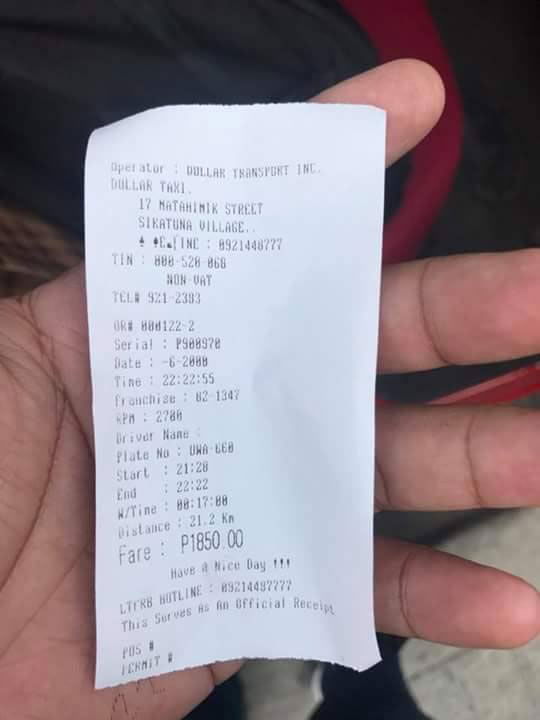 Shocked as the driver pulled the receipt and handed it to him, the OFW was dismayed that his bill amounted to P 1,850.00.  He then told the driver that it was too much but the driver insisted that it was his actual fare.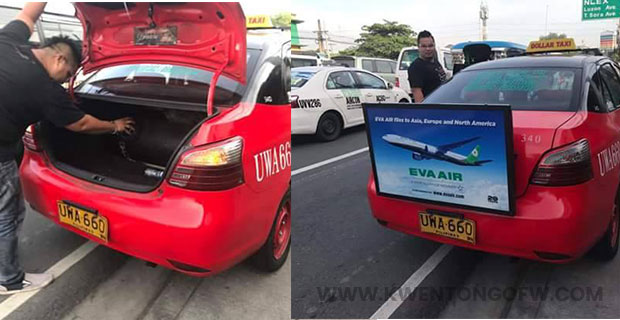 Left with no choice, even if the passenger knew that the fare would not cost that much, he paid for the fare to settle the argument once and for all.
The OFW decided to share this experience to warn the public especially the OFWs whom most of the taxi drivers in NAIA were taking advantage of,  thinking that they were carrying a lot of money in working abroad.
Please be extra careful when you ride a taxi and make sure you were just paying the right amount of fare which depends on how far your destination is.
The passenger posted this on social media to warn the public and wished that sanction be given to these kinds of drivers by the authorities.