A Facebook user named Quiggle Ignacio who is a registered nurse and a freelancer model based on her Facebook account recently posted a video and photos of an allegedly racist couple who show unpleasant behavior towards.  The incident happened in Glendale, California, USA.  Ignacio is seeking help to locate the said couple.
According to Ignacio's post, it was around 2:20 pm when she was taking her meals inside her car as she was hurrying up and excited to meet a friend.  Suddenly, a lady pushing a grocery cart with her baby in it hit her car.  Instead of going down, she just looked at the lady and just opted to finish her meals. However, she was surprised when the lady freaked out and said bad things at her face while shouting.
The lady said,
"F*ck you chinky asian!"
Ignacio alighted from her car and told the lady,
"Why are you yelling when you are the one who hit my car? I was eating quietly." She screamed at my face and pointing finger at my face "you fucking staring at me you bitch etc etc"
Shortly, the lady's husband came and joined their argument.
"F*ck you chinky asian! Go back to your country b*tch!" Then she kept saying "f*ck you! Go back to china!"
Ignacio said the couple insisted that she was the one who started yelling at the wife.  Immediately, she got her mobile phone to record what was happening and tried to get the plate number of the couple's car but the grocery cart was covering it.
Ignacio added that she felt scared as they went around her.  The husband was twice as big at her and the lady was starting to hit her. She said that moment was really traumatic.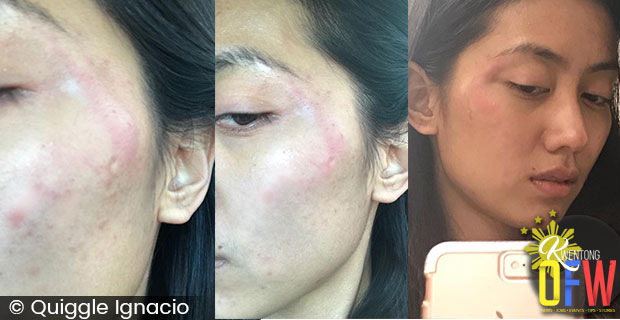 She said that she had to defend herself from being physically hurt yet what was really damaging was their words which created emotional and psychological damage on her.
Ignacio claims she is a good person, a law-abiding citizen and a responsible nurse by profession who takes care of her patients.  She added that there's no race that can even change the way she interacts with them as she treats them the way she treats her own family.
In that case, she believes that she's the victim yet she was the one who got hurt and discriminated.  This made her feel hurt and not feeling well because she believes it's not right to be a racist and to hurt other people for whatever reason.  Ignacio prays people will stop practicing racial discrimination.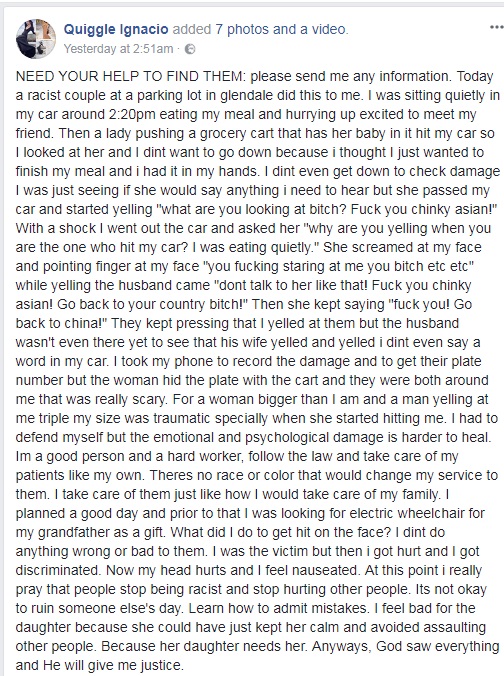 Meanwhile, she claims it's not okay to ruin someone else's day and people should learn how to admit committed mistakes.  She even felt bad for the couple's baby because, with her presence, her mother could have just maintained calm and had avoided assaulting other people.
In the end of her post, Ignacio said God saw everything that happened and believes she will be given justice.
She intends to locate the couple and any information leading to them will be appreciated.
See video below :