A passenger expressed her disappointment with an airline company whose employee allegedly charged her more than what she should only pay for her baggage.  She shared her unpleasant experience and was later on posted by a Facebook Page of Bangsa Sug Volunteers, Inc.
According to the passenger, she was advised to pay an additional fee for her baggage since her bag allowance was not indicated on her ticket.  She then approached a certain Airline teller named "TONI" to ask how much does she needs to pay.
Apparently, Toni said that her baggage weighs 15 kilos and she needs to pay P748.00 for it. At that time, the passenger was somehow doubtful about her bag's weight so she decided to take her bag back from Toni and instead thought of booking her extra baggage online.  But then, Toni told her that she may not have enough time to do the online booking.
Skeptical, puzzled and wondering why she needs to pay that much, the passenger approached another teller.  Later on, she was advised that her baggage weighs only 8 kilos. She then went back to Toni and heard other passengers who were also complaining.
As such,  another passenger standing in front of her who was being assisted by Toni was also surprised that she was being asked to pay P4,284.00 for her baggage alone.  She became hysterical as she cannot accept the fact that her baggage costs even more expensive than her airfare ticket.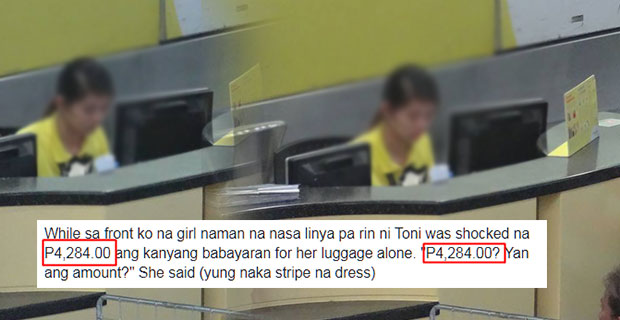 "P4,284.00? Yan ang amount?"
"Wow te, ang mahal ng baggage fee ko. Mahal pa sa ticket ko!"
She also overheard one foreign passenger whom Toni was charging P10,000 for her baggage violently reacted as she screams,
"I did not pay for my luggage from Dubai all the way to Manila. And then here in Manila you're saying that Im gonna pay 10,000 pesos for my one bag?"

"This is a Damn Bullshit! Give me back my bag."
After hearing what the passenger said, Toni stood up and left the counter.
This left the passengers thinking, is the airline company aware how Toni was handling their clients?
The post :