The family of an OFW in Riyadh, Saudi Arabia didn't have any news from her since she left Bacolod City, Negros Occidental more than seven years ago.
Finally, after years of hoping that she is alive and doing well, her family saw a video of Yolanda Aniban Visitacion asking for help on Facebook.
The family of the 59-year old woman immediately seek help from the Overseas Workers Welfare Administration (OWWA).
According to the OWWA Bacolod case officer Rizza Mapa, the case of Visitacion is now being held at the Philippine Embassy in Riyadh, Saudi Arabia.
Through the help of the Department of Foreign Affairs, Visitacion's location is now currently being tracked especially because her family in the Philippines haven't heard from her for seven years.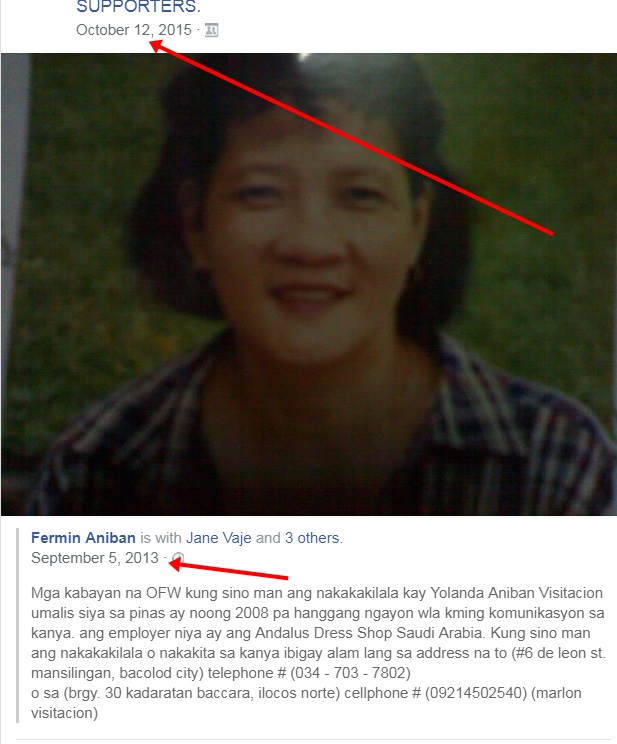 Good thing the video was posted on Facebook.
In the video, it can be seen that a woman, wearing a black hijab is anxious and obviously nervous. She introduced herself as Yolanda Aniban
According to her, she worked for her employer for six to seven years and was tasked to take care of their son who is now in the fourth grade. The boy was still a baby when Yolanda first started working for the family.
But according to the OFW, her employer is 'mata pobre' or a person who looks down on the poor. Additionally, the woman is also constantly maltreating her, hitting her on the hands and feet.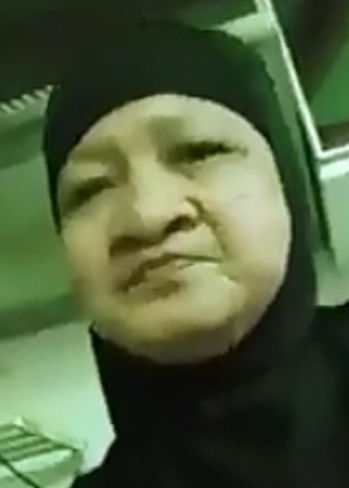 What's worst is Visitacion's eye condition. She is starting to get blind in one eye and couldn't read or even tell the time. Her other eye is also starting to blur.
The video of Visitacion was first posted by a certain Jennifer Debaja Palomo, one of the members of OFW Public Service and Guidance group.
Palomo also said in her Facebook post that the children of Visitacion in the Philippines didn't even know that she is still alive.
It was on 2008 when Visitacion went to Saudi Arabia to work but her family in the Philippines eventually lost contact with her. Her recruitment agency has long been closed.
Palomo said that she got the video with the help of another Filipina named Eileen, who works in a catering service company. They did a catering job in the house of Visitacion's employer.
See video :
OFW NGA TAGA BACOLOD 7 KATUIG NA NGA GINATAGO SANG AMO SA RIYADHSurprise " gift " para sa mga anak sa pagsaulog sang " Mother's Day " ang mahibaluan buhi pa ang ila iloy nga masubra na 7 katuig ang ila pag pangita.Siya si Nanay Yolanda Aniban Visitacion, 59 anyos sang Mansilingan Bacolod City kag naka pamana sa Ilocos.Nakalab ut sa atun ang pag pangayu sang bulig ni Nanay Yolly nga marescue paagi sa social media. Ginbuligan ini siya ni Eileen nga makuhaan sang video sang nag pa cater ang amo ni Nanay Yolly sa kumpanya nga gina ubrahan sang good samaritan natun nga kapwa pinay.Sa pag pakig angut natun sa iya anak nga si Katrina, 2008 pa naghalin ang ila iloy kag isa ka mananahi ang ubra sa Riyadh apang sang magsaylo ini sang amo 7 katuig ang nagligad wala na sila sang kuntak sa iya.Sa panaysayon naman sang utod ni Nanay Yolly nga si Sir Jerry Aniban via messenger , 10 na katuig nga wala nakapauli ang magulang sa Mansilingan kag nagpati na gani ang mga himata nga wala na sang tsansa nga makit an pa ini. Dugang ni sir Jerry pang anum si nanay Yolly sa 11 sila nga mag ulutod. Maga selebrar man sang iya ika-60 anyos nga kaadlawan si Nanay Yolly sa maabot nga Agosto.Base sa pahayag ni Nanay Yolly sa video, indi gid ok ang tratasyon sang amo sa iya.Tagsa ka sugo may panakit gamit ang kamut o tiil sa pag patupa man kay nanay Yolly.Dugang pa ni nanay, indi na makakita ang pihak nga mata kag naga blurred naman ang isa pa ka mata sini.Nahibaluan man nga sarado na ang agency nga amu ang nagpalakat sa iya sa Saudi kag posible TNT na ini kag expired na ang pasaporte .Sa bulig sang atun himpit nga PRAYERS , I know marescue gid si Nanay Yolanda Aniban sa gilayon.Sa karun , naka coordinate na ang amun grupo nga OFW Public Service sa embahada sa Middle East kag dala ang paglaum nga marescue na si Nanay Yolly kag makapauli na sa iya pamilya.

Posted by Jennifer Debaja Palomo on Saturday, May 12, 2018