SOUTH KOREA – A female Overseas Filipina Worker got the time of her life when President Duterte kissed her on the lips.
The light gathering went frenzy when President Duterte kiss the lips of a Filipina onstage. The woman also received one copy of "Altar of Secrets" from the President himself during the meeting among Overseas Filipino Workers held at Grand Hilton Hotel.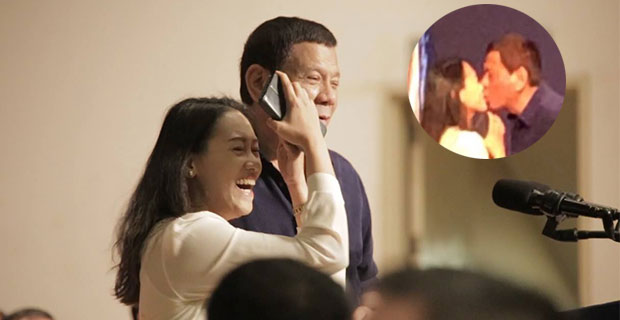 The book, which tackles the alleged abuses of Filipino clergy, was initially offered by President Duterte to selected audiences but then he invited two women to the stage. He jokingly told the two woman that she wants a kiss from them.
For the first woman, she agreed to be kissed in the cheeks while the other one agreed to be kissed on the lips. The crowd then cheered and teased the two to kiss.
WATCH: President Duterte gives an overseas Flipino worker a kiss on the lips during his meeting with the Filipino community in Seoul. | via Christina Mendez in South Korea

Posted by Philippine Star on Sunday, June 3, 2018
First, Duterte asked if the woman have a boyfriend. She said yes but still agreed to kiss Duterte. Eventually, the two had a smack on the lips and shared a friendly hug afterward.
Before the kiss happened, the President did a long speech about topics like corruption, mining, war on drugs and the alleged involvement of the Catholic Church on various abuses.
Because he got dismayed by the growing number of abuses involving bishops, Duterte jokingly said that he will soon build his own church which will be called "Iglesiani Rodrigo". The only policy for the supposed church will be to "make yourself happy".
"You only live once," President Duterte said. "Pursue your dreams," he ends his speech.
See below :