Yesterday, a lot of Filipino workers going to the Ninoy Aquino International Airport (NAIA) were left baffled after they were refused to board their flights going to Kuwait. It was then announced that there is a travel ban effective immediately.
After a day, the Department of Labor and Employment (DOLE) announced that the temporary suspension on the deployment of Filipinos to Saudi Arabia has been finally lifted.
The said lifting of the ban was made after the Saudi government promised that foreign employers and recruitment agencies will be shouldering the cost of the institutional quarantine of Filipino workers as well as other COVID-19 protocols that they had to go through when they arrive in the Kingdom.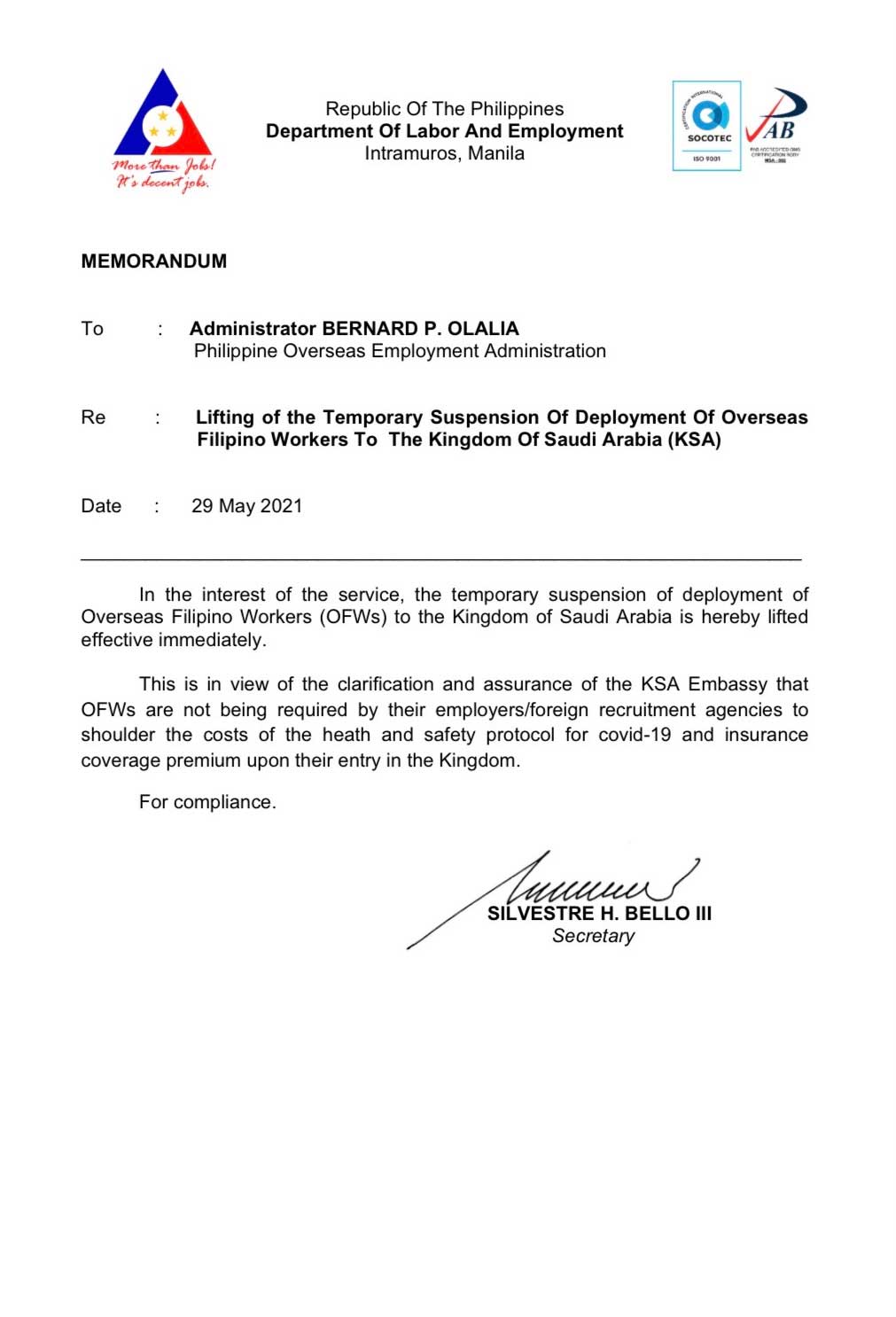 "The temporary suspension of deployment to the Kingdom is hereby lifted," says Bello.
"I have advised the Philippine Overseas Employment Administration to immediately implement this directive and provide the necessary clearance to all our departing Filipino workers to facilitate their travel to the KSA," the Labor chief added.
Bello also acknowledges the confusion of affected OFWs who are about to board their flights to Saudi Arabia.
It can be recalled that a suspension of deployment hindered a lot of OFWs from leaving the country on Friday, May 28. However, the said move was supposed to provide protection to Filipino workers following reports that employers and foreign recruitment agencies in KSA are letting Filipino workers shoulder the expenses of health and safety protocol in line with the COVID-19 pandemic. Filipino workers were even required to pay for premium insurance coverage before they can enter the country.
The said move, however, ensured that OFWs will not be financially burdened by these safety protocols. Bello claims that the cost of a 10-day quarantine in KSA is estimated at $3,500 (PhP167,120).
"Again, I apologize for the inconvenience and momentary anguish that it may have caused our dear OFWs. It was in the best interest of our OFWs that such a decision had to be made," says Bello.
"I thank the government of KSA for acting with dispatch and giving us reassurance. Our Saudi-bound workers will no longer be disadvantaged."
Source GMA News